November Beer of the Month: Vivant Solitude
Submitted by

ryan

on Sat, 11/12/2011 - 6:19pm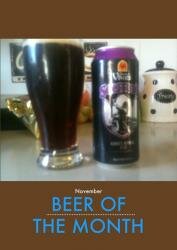 This beer happened to be a gift from a good friend of mine that toured Vivant Brewery in Grand Rapids, MI.  Vivant deserves a lot of credit for creating this delicious Abbey Style Ale...Even the Belgium monks who have been brewing ales like this for years would be jealous.
Solitude has a beautiful dark reddish-brown color and the foamy head on top is appeasing to the eyes.  Once it hits the front of the tongue, there's an immediate taste of caramel malts and subtle hints of pears and raisins.  I'm typically partial to very hoppy beers, but this maltlicious beer is a wonderful sipper.  I just wish I had a pot roast or shepherds pie that I could wash down with it. 
Perhaps one of the more underrated features about this beer (and all of the beers from Vivant) is that they come in cans.  The entire process of canning is much more environmentally friendly, from the can itself to the manufacturing processes surrounding it.  For those that want to complain about the "metal taste", well you should be drinking your beer out of glasses!
Log in or register to post comments