September Beer of the Month & Introducing the New "Flavor Wire"
Submitted by

John

on Thu, 09/15/2011 - 11:32am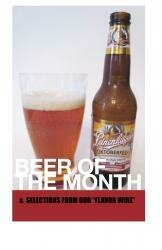 September Beer of the Month
It's that time of year again, your smile a little brighter, hug the better half a little tighter...because the NFL is back. What does that also mean? The Autumn brews are back, and what better one to feature than a personal favorite of BOTH mugs, Leinenkugel's Ocktoberfest. Fellow mug, Ryan Forbes, tipped me off to the Wisconsin family brewery, and there was no turning back. From the Summer Shandy, to the Fireside Nut Brown, all delicious...but the crown jewel is their Ocktoberfest offering. A beautiful blend of hops makes this a smooth and easy drinking Fall selection. It's color is a pale copper and a slightly spicy aroma makes this a sipper, not a chugger. If you want to chug, this mug won't judge...feel free.
INTRODUCING THE "FLAVOR WIRE"
We can't be a legit fantasy football/beer site without offering more than just a monthly beer offering, right? I nod in agreement with you, my hoppy malt-loving-motherfuckers! So let's roll with more autumnal selections...
The other sexy beers this time of year are the pumpkin selections rolling off the shelves. The KING of said Gourd Brew is none other than the Oregon brewmaster's "Punkin' Ale." Tastes of pumpkin, brown sugar, and spices make this a perfect beer to sip on Thanksgiving Day while watching the annual Turkey Day games. But hurry, it only lasts until then, and it's gone with the Autumn leaves.
I toured this awesome craft brewery outside of Burlington, VT, and didn't get the chance to sample this seasonal at the time, and let me tell you...I'm impressed. In fact my wife, who's not a big Octoberfest afficianado, LOVES this beer. A complex blend of malt and hops, this one does not disappoint. Just trust Uncle Rummy on this one, GET SOME! Hurry, because this one is gone by October 15th...OUCH!!
Where there is SMOKE, there is Rummy. You know my affection for Hefeweizen, but this tremendous new offering from Sam Adams, gives you a hint of smoke, with caramel notes, and lots of hoppy goodness. I suggested this one to Forbes, because I know he likes to BBQ in his snow boots, and this one is a perfect companion for smoked brisket or trout.
Thanks for stopping by fellow brewheads, and remember, these Autumn favorites aren't around for long, so stock up, and enjoy well into the winter. Cheers!
Log in or register to post comments