"Hot Garbage" Waiver Wire Week 13 (Mon. Update)
Submitted by

John

on Sun, 11/27/2011 - 6:51pm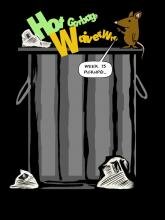 Now that the trade deadline has passed in most fantasy leagues, and the playoffs loom large, dropping players (COLD TRASH) is no longer advisable unless you sustain an injury to your lineup, and need to add a player, in which case I give you...
 HOT GARBAGE:
QB: T.J. Yates/HOU: With Matt Schaub on IR, and Matt Leinart leaving the game in the 1st half with a shoulder injury, the Texans relied on a "non-Matt" in relief, former Tar Heel T.J. Yates. You know Uncle Rummy loves him some N.C. talent ( ie., Quinn, Johnny White), and like his former teammates, he just needed a chance. His chance is now. Pick him up for depth at QB, but don't expect big production in this run heavy offense.
*UPDATE 11/28: Many outlets are confirming Sage Rosenfels is likely to be released, and could be picked up by the Texans as insurance. In any case, Rosenfels is an oft injured journeyman with little upside. Yates knows the offense, and while his fantasy numbers may not wind up being stellar, he offers more athleticism and a better arm than Rosenfels who's coming off the reserve list to be dropped by the Phins.
RB: Peyton Hillis/CLE: If he's been dropped in one of your leagues out of pure frustration over his nagging hammy injury, his 19 carries this week vs. Cincy should clear things up. While his schedule going forward is not favorable at all (faces BAL/PITT twice), he does face a nice matchup in week 15 against Arizona just in time for the fantasy playoffs.
WR: Deion Branch/NE: Yes, it's maddening, spotty blow up performances here and there ( 6/125 vs. PHI), but isn't that what you get from Vincent Jackson? Right. Pick up "Freon Deion" if he's out there on your waiver wire, and enjoy the unpredictable production.
TE: Kellen Winslow/TB: This bears a re-pimp. While I cited that Winslow's numbers from last week would dip this week, and they did (5/52), the Bucs schedule going forward is pretty soft the rest of the way, as they face Carolina twice, & in the all important week 15 of the fantasy playoffs.
*Cold Weather Futures : These are RBs I like going forward in the coming weeks, especially as the weather cools, & divisions are settled. We'll likely see more young RBs get work in as starters are rested for the playoffs.
Johnny White/BUF: Still scratching my head as to why White didn't see more work as Spiller was ineffective between the tackles, and Tashard Choice once again failed to live up to his surname. Expect the youngster to get more audition time late in the year with FJax on IR.
Shane Vereen/NE: While the NE backfield can be maddening, the Pats are beginning to slowly incorporate more running plays into the gameplan the last few weeks, and Vereen looked good in garbage time in limited action. While Ridley saw reps vs, Philly, he was largely ineffective. The shift now seems to be in Vereen's favor, and he could see an uptick in the coming weeks.
Kendall Hunter/SF: If he's been dropped because Frank Gore is half man/half zombie RB, pick his ass up. SF is a run first team with a sweet schedule vs. the run, and he's an important handcuff for the fantasy playoffs.
*Monday Night Wrap-Up: The Steelers/ Chiefs game was surprisingly close, thanks to inefficient play from the Steelers defense, and the Chiefs getting to Ben Roethlisberger multiple times and disrupting the pocket. The difference was three giveaways by Tyler Palko, getting a jump start on "Cyber-Monday" to a grateful Steeler defense.
The promising news is that Antonio Brown owners should see his involvement to continue to increase on a weekly basis. Honestly believe there's little or no chance Tyler Palko sees another start unless Kyle Orton cuts himself shaving his neck beard. I wouldn't hesitate to pick up Orton if you have a glaring need at QB, because Orton is a quick study, and should be able to feed Dwayne Bowe & Steve Breaston with more efficiency than the turnover prone Palko.
"Flex Luthor" Start of Week 13:  Kansas City Chief Defense: The reeling Chiefs travel to Soldier Field on week 13, and Kyle Orton gets to face his old team for a shot at redemption. That will be the minor headline, but buried beneath that will be the physical Chief defense facing off against Tyler Palko's mechanical doppleganger, Caleb Hanie. If the Chiefs are on your WW, don't worry about Matt Forte, he'll pick up yards...but Hanie will give sacks, throw picks, and fumble at will.
Log in or register to post comments