The Midweek Hangover (Rummy's NFL News & Notes)
Submitted by

John

on Tue, 03/20/2012 - 9:45pm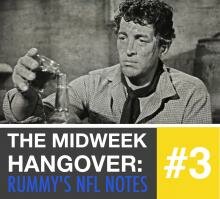 Peyton picked a team! Peyton picked a team! Yeah, unfortunately it was the wrong one in this man's opinion. Everybody and Deion Sanders grandmother thought Peyton to San Francisco was as comfortable a fit as a fat kid in sweatpants. However, my gut feeling all along was the best "Peyton" fit was never going to be the most ready made for a Super Bowl push. Staying out of Eli's conference, keeping his wife happy, and playing for a team that would allow him to run his own offense were the keys that led to this decision. Elway and Foxy are savvy enough to know better. On the flip side, what about the scorned lovers, namely the Titans, Dolphins and Niners?
Titans: I always found it odd that Bud Adams had given up already in year two with Jake Locker. Matt Hasslebeck is still in limbo, but could re-sign with Tennessee if needed. Me? I'd take the training wheels off Locker and let him have a full 16 game slate. He showed enough last year, and we all know the kid is a competitor and a terrific athlete.
Dolphins: Henne went to Jacksonville (no loss there), and that leaves MIA with Matt Moore and newly added retread, David Garrard. The Tebow talk was never viable, so a push for Tannehill is certainly in the mix if the Browns don't try to strong arm Ireland and Company for picks. My guess? Moore is the day one starter. 
Niners: After a last minute ninja like push for Peyton, Alex Smith went off looking for a suitor in free agency. The Dolphins chose Garrard, and Peyton chose the Broncos, so an awkward Harbaugh/Smith reunion was inevitable (The Niners matched the $8 million per that the Phins had offered Smith this week). 
I got some nods of approval and some hearty chuckles when I suggested Forbes' beloved Chiefs would take the AFC West this year. I'm still not convinced that Peyton won't have some physical problems in 2012, and let's be honest, the 2011 Chiefs looked like extras from the set of "The Walking Dead." A healthy Charles, Moeaki, Bowe and Baldwin, add in free agent stud OT (a huge need to protect Matt Cassel) Eric Winston and change of pace back Peyton Hillis, and the Chiefs are looking like a playoff push is a reality. If Cassel can return to 2010 form, and a healthy Eric Berry and Flowers can re-activate "Wonder Twins" style, I like their chances.
Speaking of under the radar, offseason ballers, John Schneider and the Seahawks are getting it done in smart fashion. They brought in Matt Flynn for a reasonable contract, and if it pans out, they'll look like geniuses. They also added Jason Jones to their already athletic DL of Chris Clemons and Red Bryant.  If they address the LB position via the draft,  the Seahawks are looking every bit as good on defense as their more heralded NFC West counterparts, the Niners. In fact, the Hawks arguably roll out the best secondary in the NFL each Sunday. If they add depth via the Draft? Look. Out.
I would be remiss if I didn't mention the extensive work the Patriot's front office is doing during free agency. The Pats knew (by his own gushing admission) that Brandon Lloyd was looking to be reunited with Josh McDaniels, and they allowed the market to come to them in an effort to sign the 2nd best WR available in unrestricted free agency. Lloyd gives Tom Brady a threat outside the 20s that can get vertical and keep defenses honest. Belichick and Caserio also added versatile DL Jonathan Fanene, OL Robert Gallery, WR Anthony Gonzalez, and OLB Trevor Scott. Aside from Lloyd, these are low risk and potentially high reward role players for New England. It's interesting, because New England hasn't done well with the "big name, bad rep"  players as of late, with Albert Haynesworth and Chad Johnson being two major whiffs of the fee agent wiffle ball bat. Where they do excel is bringing in the talented, high character guys who were previously bad scheme fits for respective teams (like Andre Carter and Mark Anderson), and put them in a position to succeed. That's why their work thus far can potentially yield success, without massive cap casualties.
One last note. I respect the career of Hines Ward. A ferocious blocker, a reliable WR with Pro-Bowl seasons under his belt, as well as two Super Bowl wins, but he's not a first ballot Hall of Famer. Statistically, he lags behind the likes of snubs like Tim Brown and Cris Carter, as well as future nominees, Marvin Harrison and Isaac Bruce...both of whom have Super Bowl rings as well. Will he eventually get into the Hall? Sure, and I may even be underestimating the good will Ward receives from beat writers and Hall of Fame voters at large. I just think Hines will be waiting a while for that induction to Canton.
Log in or register to post comments