The Monday Hangover (Rummy's NFL News & Notes)
Submitted by

John

on Mon, 03/05/2012 - 10:52am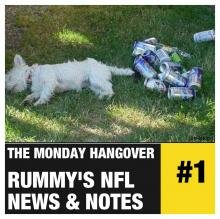 FROZEN TAG
The deadline for applying the NFL's franchise tag is today (4pm EST), here are the updates on designations thus far.
DeSean Jackson, WR, $9.5 million - The Eagles were expected to tag Jackson, who was surprisingly happy and optimistic about the move (at least via the media). It remains to be seen as to whether the Eagles work out a long term deal, or look to move Jackson via trade.
My take: Considering the way Jackson carried himself last season, playmaker or not, it wouldn't surprise me if the "all business" front office moved Jackson.
Brent Grimes, CB, $10.4 million - Grimes was the best CB on the rather underachieving Atlanta secondary last season, which is like being the hottest chick at fat camp. In a weak CB Draft class, this was a smart move.
My take: Again, with a weak class of DBs in the draft, Atlanta protects its best corner, and at the very least allows them to acquire picks and likely draft a CB, should a suitor come knocking for Grimes.
Ray Rice, RB, $7.7 million - Rice wants Adrian Peterson money, which Ozzie Newsome likely won't even come close to offering. Will he get DeAngelo Williams money with a bump? He should, but the Ravens are a savvy group, and the tag was their best move with the sides so far apart on a deal.
My take: I would think Rice would threaten a hold out, especially if he thinks he's worth A.P. money ($100 million-ish). That said, Rice would be wise to not push the envelope ala Chris Johnson, because Ozzie Newsome would likely draft a RB and pursue another in free agency if his demands aren't tempered.
Dashon Goldson, S, $6.2 million - Goldson turned down a 5yr/$25 million dollar deal initially, instead opting for a 1yr/ $2 million dollar deal. In a thin safety draft class, maybe he did himself a favor?
My take: Banking on a thin safety class might be the ticket for Goldson, but when he tested the market in 2011, he didn't find the big payday he was expecting. My guess is that he plays 2012 under the tag and hopefully the Niners will work out a deal in-season.
Calais Campbell, DL, $10.6 million - Campbell isn't the type of player you allow to hit free agency. He's a young, massive specimen, and his potential still hasn't been reached yet. The Cards did what they had to in this situation.
My take: Campbell will likely play under the tag, and hopefully the Cards will present an offer in-season to keep the young DL in Arizona for several years.
Mike Nugent, K, $2.6 million - Eight years younger than Dawson, and 1.2 million cheaper...not to mention more accurate.  This makes exceedingly more sense.
My take: Good deal for Cincy, but in the end, he's a kicker.
Phil Dawson, K, $3.8 million - A head scratcher. Cleveland felt this was the guy they couldn't allow to hit free agency due to their low scoring offense.
My take: Would a 38 year-old kicker going to have a ton of suitors in free agency? Not so sure. This was a waste of money.
Fred Davis, TE, $5.4 million - Fred Davis was suspended the last four games of the year for violating the league's substance abuse policy, but the Skins have nothing to show for at WR and need his production.
My take: I imagine Davis will play out the year before the Redskins extend his contract due to his off-the-field transgressions. Any incoming QB will need Davis, so it's a reasonable deal.
Tyvon Branch, S, $6.2 million - The Raiders took it on the chin by releasing Stanford Routt, so tagging Branch was inevitable.
My take: A good deal for their best player on the back end. This means it's likely Michael Bush will find a new home once Free Agency opens on March 13th.
Matt Forte, RB, $7.7 million -  Forte was a good "Soldier" all year and outperformed his contract tenfold in 2011. The poor handling by the Bears' front office makes him the obvious guy to tag.
My take: With a new front office in Chicago, it's hard to say, but it would be a shame if a deal wasn't reached with Forte, especially since DeAngelo Williams has scared every GM going forward (except Seattle) to extend any good will to RBs.
Drew Brees, QB, $14.4 million - The shit is ankle deep in New Orleans with "BountyGate" looming and an utter failure to reward one of the best QBs in the game with a proper extension. In the process, the Saints will likely lose Carl Nicks and Marques Colston in free agency.
My take: If I'm Drew Brees? I play out the year and give Mickey Loomis the single finger salute in 2013...for better or worse.
Cliff Avril, DE, $10.6 million - Avril wanted a big deal and the Lions didn't want to extend that much to him, who may be a benefactor of playing next to Suh and KVB. The tag was inevitable.
My take: Avril has threatened to hold out if he was tagged, which would be a mistake. Avril is an overrated pass rusher, and likely won't see that much money in the open market.
Michael Griffin, S, $6.2 million – This signing only ensures that the Titans will lose Cortland Finnegan in free agency.  Griffin is a decent asset in the backend though and his cap number will be significantly less than Finnegan's, had they franchised him.
My take: Griffin has played his way into the good graces of the organization after being drafted 19th overall in 2007.  It's likely that they'll try to hammer out a long-term deal before the July 16th deadline.  ESPN also pointed out that another of Griffin's assets is that he has not missed in a game in 5 seasons.
Wes Welker, WR, $9.5 million- The Patriots offered Weller a 2 yr, $16 million dollar deal in 2011, but Welker turned it down. The sides couldn't come together on the length of the contract (Welker is 31), so that prompted the tag designation.
My take: Welker has been the most productive WR in terms of catches, topping over 100 catches 4 out  5 years. The issue with Welker has always been his unique situation, he plays slot WR in a fast paced timing offense, and isnt your prototype #1 WR. With the emergence of Rob Gronkowski and Aaron Hernandez, how will they view Welker? My guess? They work out a compromise eventually, and extend a deal for 3 years. When that happens is unclear. There's always the potential for Belichick to trade Welker out of the division to a place like Kansas City, much like they did with Matt Cassel after applying the tag in 2009. It's never out of the realm of posssibility with Belichick.
Anthony Spencer, OLB, $8.8 million- Spencer is still a relatively young OLB and would likely find a landing spot in a thin OLB free agent pool. Jerry Jones and the Cowboys did what they had to do by tagging Spencer.
My take: Spencer is one of the few bright (and young spots ) on the Dallas defense, that needs to get younger at some positions. Securing Spencer was a good move.
Dwayne Bowe, WR, $9.5 million- No big surprise here, as Bowe, aside from a healthy Jamaal Charles, is their best offensive player. Take Bowe out of the equation, and the Chiefs offense goes from potentially explosive, to one-dimensional. A smart, but expected move by Pioli and the Chiefs.
My take: Bowe would have fielded strong interest in an aging free agent WR market, so the tag was a must. I'm not sure Bowe is the type of player you extend for multiple years with guaranteed money, but it could happen. 
Steve Weatherford, P, $2.6 million - Weatherford did his job in the Super Bowl by repeatedly pinning the Patriots deep in their own territory.  Weatherford was given the opportunity to be the Giants' punter after the Matt Dodge fiasco (remember the DeSean Jackson punt return at the end of regulation in week 15 of 2010?).
My take: Weatherford and the Giants will likely look to close in on a long-term deal before the July 16th deadline.  Either way, we can be certain that we'll be treated to many more lame punter celebrations, courtesy of Weatherford.
"LEG" EXTENSIONS
Some players were signed to contract extensions over the last few days, and Skittles were enjoyed...at least by one player.
Marshawn Lynch, RB, 4yrs/$31 million, $18 million guaranteed - Lynch has had his ups and downs on and off the field over the course of his young career, but he lived up to his "Beast Mode" moniker last year. He'll continue to be a huge part of their offense in Seattle...especially if they add a young QB via the draft or free agency.
My take: Schneider and Carroll weren't scared to pay Lynch, and in truth, he crushed the production of part-timer DeAngelo Williams. In a word, he was a bargain by comparison.
Stevie Johnson, WR, 5 yrs/$36.5 million, $19.5 million - The enigmatic WR got paid, and was clearly the Bills best player last year.
My take: For a guy who made many key drops the last few years, he made out pretty well for himself. Truth is, contracts are never about what you did, but rather, what you will do in the future.
Arian Foster, RB, 5 yrs/$43.5 million, $20.75 guaranteed - After being tagged, Foster worked out a comfortable extension with the Houston Texans.
My take: I love Foster, but this is a lot of scratch for a RB in a zone blocking scheme, especially one who has been dinged a bit the last two years. That said, he's still a bargain considering his immense production even though he missed time.
Random Rummy-nations
So three more kickers got tagged, Connor Barth, Josh Scobee, and Matt Prater. What have we learned here? Tagging a kicker is usually a good indicator that your team sucks.
The bluster over how much teams will have to offer up to get RG3, may be vastly overstated. As I've opined via Twitter, Matt Flynn, Peyton Manning, and potentially an unknown QB could dilute the market, and subsequently the asking price for Robert Griffin III. Time will tell.
That's it for now, stay tuned throughout the day for updates...
Log in or register to post comments