Post Free-Agency Mock Draft (Version 4.0)
Submitted by

John

on Mon, 03/26/2012 - 6:57am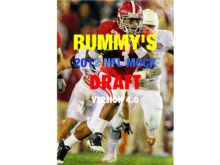 With waves 1 and 2 of Free Agency settling in, mock drafts are beginning to take shape.   Peyton Manning and Matt Flynn have found new homes (in Denver and Seattle respectively), and even Tim Tebow managed to find a way to make "Dysfunction Junction" even more dysfunctional in New York. With that said, Mock 4.0 takes shape...
1. Colts: Andrew Luck, QB - Let's not get cute with the RG3 talk.  Irsay is bananas, but Luck has been the guy since day one.  If he did flip and take RG3, the Skins pre-draft trade would likely complicate things. I don't see that happening.
2. Redskins (via trade with the Rams): Robert Griffin III - He's Shanahan's guy, and certainly Snyder's guy, as the Skins unloaded a smorgasbord of picks for the dynamic QB out of Baylor.
3. Vikings: Matt Kalil - I'm not buying the Claiborne talk.  The Vikes need a franchise LT, and whether it's Ponder or a veteran QB, Kalil will keep their pocket clean and open up lanes for Adrian Peterson.
4. Browns: Trent Richardson - It's still a very strong possibility that Holmgren and Heckert will try to trade down and keep building a strong foundation, but a talent like Richardson is rare. If they feel this is too soon for an upside project like Tannehill, then the call is to surround Colt McCoy with a security blanket in a back who can give you 20+ carries per game year one.
5. Buccaneers: Morris Claiborne - The top 5 rounds out with the best corner in the draft going to new head coach Greg Schiano. Claiborne is the closest thing to a complete corner in the draft, and the news of his wrist surgery shouldn't hurt his stock at all.
6. Rams (via trade w/ the Redskins): Michael Brockers  - There are a number of ways Jeff Fisher and Les Snead can go here, but the rubber stamp of a Jeff Fisher defense is a big rangy DT that can get after the QB. Brockers is a little raw but has tremendous upside and could develop into an All-Pro alongside the likes of Chris Long and Robert Quinn.
7. Jaguars:Justin Blackmon - The Jags could go a lot of different ways here,  but adding weapons for "Blaine Damage" Gabbert is key. Best WR in most people's minds. Easy call.
8. Dolphins: Ryan Tannehill - With a mighty swing and miss on Peyton Manning, moving up for RG3, and getting stiff armed by a scrub like Alex Smith, Stephen Ross and Joe Philbin will have to look to the future that doesn't feature Matt Moore.  Tannehill's connection to new OC Mike Sherman makes for an easy trust factor as far as agitating the offense is concerned, and the Phins get their franchise QB.
9. Panthers: Quinton Coples - Ron Rivera and Marty Hurney could draft another weapon for Cam Newton like Justin Blackmon, or they could potentially find the next Peppers in Coples. Defensive minded coaches usually lean that way.
10. Bills: Courtney Upshaw - Forget that Buddy Nix went out and got himself two dadgum  DEs in free agency with rock star Mario Williams and slightly overvalued pass rusher Mark Anderson. A healthy Kyle Williams and stud DT Marcel Dareus would make this the scariest defensive front in the AFC. Add in versatile Upshaw, and the rest of the division has been put on notice.
11. Patriots (via trade w/ Kansas City): Melvin Ingram - Yeah, yeah, yeah! The Pats don't trade up. I hear you, I really do, but hear me out. Bill Belichick swung and missed a few years back with free agent Adalius Thomas, in the hopes that he could stick his hand in the dirt, stand up and rush the passer—a Swiss Army backer if you will. Well, Ingram is that rare breed, and he has a relentless motor and athleticism. New England offers up their 27th and 31st to make the move up, and still have two 2nd round picks.
12. Seahawks: Luke Kuechly - Signing Matt Flynn answered the QB question in the short term, so drafting a sure thing like Kuechly and addressing a need at LB seems like a smart move.  Kuechly will be a solid addition to a burgeoning young defense.
13. Cardinals: Riley Reiff - Whether he's viewed as a RT or LT, Reiff adds immediate help to a porous OL that did nothing to help the growth of Kevin Kolb. Reiff is also a proven road grader and only serves to boost the run game of Beanie Wells and Ryan Williams.
14. Cowboys:David DeCastro - Adding Brandon Carr via free agency addressed the Boys' most glaring need, so adding a versatile OL like DeCastro who could be a starter at guard day one, and even push for playing time at RT opposite Tyron Smith, is a no-brainer.
15. Eagles: Fletcher Cox - With Howie Roseman wisely adding veteran Pro-Bowl ILB DeMeco Ryans in a trade with Houston, the front office now turns its attention to the D-line, and big, versatile Fletcher Cox can play up and down the D-line. This is a smart pick that only serves to improve a young and talented defense.
16. Jets: Nick Perry - Considered Cordy Glenn here to bolster the Jets OL (especially with the Tebow-offense now being incorporated), but in the end the Jets struggled mightily to get heat on Tom Brady last year, so this year they take a versatile hand in the dirt/stand up "elephant" type in Perry.
17. Bengals: Dre Kirkpatrick - I know some Bengals fans are high on Stephon Gilmore, but with Kirkpatrick falling this far, Mikey Boy Brown would be foolish to pass on the opportunity to make up for the loss of Jon Joseph a year ago. Paired with Leon Hall, the Bengals are back in the conversation as having one of the top CB tandems in the NFL.
18. Chargers: Cordy Glenn - He hasn't moved since my earlier mocks were posted. The re-signed Jared Gaither adds stability at LT, but the retirement of Kris Dielman leaves a huge hole at OG. Glenn is a monster and can play RT in a pinch. A safe, need pick for the Chargers.
19. Bears: Kendall Wright - It would be wise for the Bears front office to protect Cutler first and add weapons later, but if the addition of Brandon Marshall tells us anything, that's not how they operate. That said, Wright is the perfect field stretching deep threat compliment to Marshall's YAC/possession WR style. In the very least, Cutler will be happy he has true big play WRs to throw to in Chicago. They'll add OL later.
20. Titans: Dontari Poe - With Coples off the board, the Titans turn their attention to adding versatility to their DL, and Poe has too much upside to pass over. He's raw and could be more explosive at times, but again, a 345 lb DL who can play in multiple sets and move like greased lightning, is hard to find.
21. Bengals: Michael Floyd - Never fearful of adding players with OTF concerns, the Bengals add perhaps the best WR in the draft for that very reason. If Floyd can continue to maintain his image as a good citizen, pairing him with the gazelle-like A.J. Green will be a potential nightmare matchup for opposing defenses.
22. Browns: Mike Adams - I considered a QB like Weeden here, but in the end I just couldn't see Holmgren, with his history of shaping undervalued QBs, using a pick this early on a 30 year old QB. Instead, he adds OSU product Adams to anchor his O-Line at RT and clear the way for Trent Richardson.
23. Lions: Jonathan Martin – I considered help in the secondary for the Lions, but protecting the shoulders of Matt Stafford is priority #1, and Stanford's Martin is the best tackle left on the board.
24. Steelers: Dont'a Hightower - The Steelers don't ever get cute in the draft. They add depth and value, and considering they're getting a little long in the tooth, especially at ILB, the aggressive Hightower is a natural fit in Dick Lebeau's system.
25. Broncos: Stephen Hill - Oh the irony! When man-child-boy-monkey HC Josh McDaniels dipped into the same well that produced Calvin Johnson and selected Demaryius Thomas just two years prior, who would have expected John Elway to select a similar freakishly raw, but talented player like Hill? Well, #18 is now his QB, so keeping Manning happy is priority #1. Get. Him. Weapons.
26. Texans: Mohamed Sanu - I know several draftniks see Sanu as a 2nd round graded WR, but to me he's a perfect #2 WR to fit alongside Andre Johnson. He's a big, physical, possession WR who can get vertical and exploit the field outside the 20's.  Yeah, a bit of a reach, but not much.
27. Chiefs (via trade w/ New England): Devon Still - The Chiefs wisely traded down and were still able to add a 3/4 DT in Still.  He's a much needed run stuffer in the middle that can disrupt opponents' backfields. A solid addition to an already talented young defense.
28. Packers: Andre Branch - The "People's Champs" are always in the market to add the best player available, and in this case, it also addresses a need. Branch is primed to contribute right away opposite Clay Jr. at OLB in the 3-4.
29. Ravens: Mark Barron - The Ed Reed heir apparent is a perfect Ozzie Newsome selection.. Barron can contribute in nickel and dime packages year one, and eventually step into Reed's big shoes when he decides to hang them up.
30. Niners: Peter Konz - Not a sexy pick, but that really doesn't matter. After adding Moss and Manningham in free agency, weapons aren't the issue. Solidifying the OL is a smart move, and the versatile Konz can play guard as well as center (and even a little RT in a pinch).
31. Chiefs (via trade with New England): Doug Martin - When Scott Pioli addressed his OL needs by snaring blue chip free agent Eric Winston, it turned some heads. With the luxury of a 2nd pick in the 1st round, he could conceivably flip the pick for even more value in round two, but instead he stays put. Pioli adds perhaps the most complete RB in the draft behind Richardson in workhorse Doug Martin. A Mike Mayock favorite, he'll give the recovering Jamaal Charles much needed breathers, and allows the offense to continue to be focused on moving the sticks on the ground and in the short passing game.
32. Giants: Jared Crick - The World Champs can always afford to look at value, and Crick adds yet another DE to their formidable "NASCAR" package up front. With Osi getting a little long in the tooth and set to be a free agent in 2013, this is also a strong move to add depth.
Log in or register to post comments