Super Bowl 46 Fantasy Plays, Predictions, and Saying Goodbye to Another Awesome Season
Submitted by

ryan

on Tue, 01/31/2012 - 11:17pm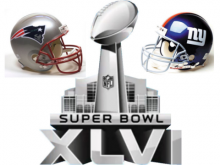 I apologize if this article is poorly written, but it's very hard to cry and type at the same time.  Alright, alright, I'm not crying, but with the last game of the NFL season just days away, there's always a certain sadness that lingers over me.  Gone are the Sundays where I spend all day on the couch taking in football on two side-by-side TVs, while washing down ribs or pulled pork sandwiches with some tasty suds brewed from breweries that put out as much beer in a year that Miller-Coor's or Anheuser-Busch spill on their floors in a day. 
It could be worse I suppose.  We could be subject to cruel 7-game series that drag on for two weeks, right baseball/basketball/hockey fans?  Instead, we have the grandeur we know as the Super Bowl: a one-game winner take all slugfest.  This event is an incredibly convenient excuse to gather all of your best friends and family, gorge yourself with food, and enjoy a "couple" beers.  I like to treat the party with beers that represent each teams' locale.  Anyone else looking to do the same should look to pick up some Sam Adams (New England) and the less trendy Ommegang (New York).
NFL.com Playoff League
With the conclusion of the Super Bowl, fantasy football is laid to rest for those of us that stick it out through the playoffs.  As we stand with the NFL.com playoff league, the Conference Championship round turned out very well. I even called the New York/San Francisco score in the last article.  That said, there aren't really any changes to make for our starting lineup this week other than finding a running back substitution for Ray Rice, which was expected.  For those not familiar with the league, it rewards "bonus" points to players that have been on your roster for consecutive weeks.  So if you were bold and started Tom Brady all four weeks (knowing that he obviously would have no points in the wild card round), you received 2X points in the divisional round, 3X in the championship round, and 4X for the Super Bowl.  Here's how the current lineup looks along with the multiplier for each player:
QB – Tom Brady (2X)
RB – Ahmad Bradshaw (2X)
RB – Ray Rice
WR – Victor Cruz (2X)
WR – Wes Welker (2X)
TE – Rob Gronkowski (4X)
K – Lawrence Tynes (2X)
D – New York Giants (2X)
So who fills the spot previously occupied by Ray Rice?  There aren't too many options really—Woodhead, Ridley, Green-Ellis, or Jacobs.  I give the edge to BenJarvus Green-Ellis in this one for a couple of reasons:
He'll receive New England's goal line carries, should they have any.
He will probably see more carries than any of the other backs.  On such a big stage, you better believe Belichick is going to give the rock to a back he can trust.  Green-Ellis has not recorded a fumble in 510 career carries.
Predictions
 Vegas plots the Patriots as -2.5 point favorites, but there are a lot of people throwing their support in the direction of the Giants.  I've been debating this since last Monday, and just now made my decision:
Patriots – 31
Giants – 24
Tom Brady and Bill Belichick don't forget 2008.  That alone is enough reason for me tip my cap in the Patriots' direction.  A lot has been made of the Giants' pass rush, but a lot can be said about how well the Patriots' O-line has played  during the postseason—one sack allowed, while facing the likes of Terrell Suggs and Von Miller.  The addition of Brian Waters made an O-line that always plays well even better.  While the Giants' pass rush will make things hard for Brady, it's not going to keep him from putting up 30+ on a below average secondary.
Cite the Patriots defense and how many yards they gave up during the regular season (2nd most) all you want.  Throw that nonsense out the window.  When it comes to scoring defense, the Patriots sit in the top half of the league (21.4ppg) and the Giants lie at 24th (25ppg).  After watching the Patriots defense in their two playoff games, things are finally starting to click.  Vince Wilfork is playing like a man possessed (2.5 sacks) and his play has elevated the rest of the defensive line as they've tallied 8 sacks in two games.  Their "bend don't break" style willingly gives teams a cushion and allows them to make mistakes between the 20's, while tightening up in the redzone in an effort to hold the opposing team to field goals.  When you have the luxury of an offense that can pretty much score at will, some sacrifices have to be made on the defensive side of the ball.
Either way, I expect this to be another phenomenal game in a playoff season that could go down as one of the best in history.  It's been a good year football fans.  Thanks for being a part of 2 Mugs Fantasy Football in our inaugural year.
Follow
Log in or register to post comments