Week 14 Running Back Carries/Targets: MJD Steals the Bucs Treasure
Submitted by

ryan

on Tue, 12/13/2011 - 12:27am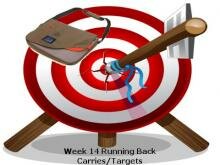 RB Carries/Targets | WR/TE Targets
The lone bright spot on a pathetic Jacksonville offense, Maurice Jones-Drew went ape poop on the Bucs defense.  Accounting for 136 yards, MJD tacked on 4 touchdowns despite only averaging 3.1 yards per carry.  Many worried about his ability to hold up for another season after an injury plagued 2010 campaign, but it's safe to say he's surpassed everyone's expectations and currently sits in 4th place for points scored among running backs. 
Here's a look at some other notable running backs from week 14.
Cream of the Crop
LeSean McCoy saw the second most looks this week with 33.  The Miami D held him to a 1.4 ypc clip, but McCoy still mustered 2 touchdowns to save what could have been a stinker of a week.
Filling in for the injured Matt Forte, Marion Barber is the goat amongst Bears fans after running out of bounds late in the 4th quarter and coughing up a costly fumble  that allowed Tim Tebow and company to steal yet another win.  Fantasy owners could care less though, as the veteran racked up 140 total yards and some pay dirt to keep many teams afloat in the playoffs.
Finally coming alive at the tail end of the season, Shonn Greene has now posted back to back 20+ point games.  Ride him while he's hot in the coming weeks in fairly favorable matchups against Philly and the Giants.
Ryan Mathews is losing out at the goal line to Tolbert, but put up his 3rd consecutive 100-yard rushing game  against the Bills.  His 6 catches served as his touchdown in this one for PPRers.  He'll need to take it up a level to keep this pace against a tough Baltimore D in week 15.
Roy Helu is turning into a Ray Rice type running back play as of late.  With 3 consecutive 100-yard games and 13 catches over that same span, Helu is solid RB1 as we enter the playoff stretch.
Marshawn Lynch continues his assault on opposing defenses with his 5th 100-yard effort in 6 games.  He's also averaged a bag of Skittles a game over that same span.  Lynch has been shedding tackles as good as anyone, and I wouldn't have any doubts about starting him against the Bears in week 15.
An unlikely playoff hero, Felix Jones will fill the void at running back for the Cowboys after they lost Demarco Murray for the season to a broken ankle.  After a 100-yard effort last week that was accompanied by 6 catches, Felix will close out the fantasy season with an extremely friendly schedule: @Tampa and Philly.  Snag him if he's on your waiver wire.
Brandon Jacobs saw a season high in carries (19), thanks in part to Ahmad Bradshaw sitting the first half for violating team rules.  Outside of touchdown heavy leagues though, don't rush to start him after this fluke performance.
Wilted Fruits of Old
With only 11 carries in the last two weeks, BenJarvus Green-Ellis has quickly lost his edge for carries among Patriots running backs.  It goes without saying, none of the Pats' ball-carriers are worth the gamble in pass happy offense.
Ryan Torain was inactive this week.  Shanahan has finally come to his senses it seems.
Daniel Thomas blew up, er, was blown up in week 14.  With 7 carries for 4 yards, he's quickly become irrelevant.
Peyton Hillis failed to punch in a 1-yard touchdown that would have given him at least a decent fantasy week.  Managing 11 looks to Hardesty's 13 and Ogbonnaya's 4, Hillis' value takes huge hit heading into the coming weeks.  For a back that has always relied on quantity for fantasy production, it looks like he could struggle to see 15 touches going forward.
| | | | | |
| --- | --- | --- | --- | --- |
| Rank | Player | CAR | REC | CAR+TGTS |
| 1 | Maurice Jones-Drew, JAX | 27 | 6 | 34 |
| 2 | LeSean McCoy, PHI | 27 | 3 | 33 |
| 3 | Ray Rice, BAL | 26 | 6 | 32 |
| 4 | Marion Barber, CHI | 27 | 2 | 31 |
| 5 | Roy Helu, WAS | 27 | 2 | 30 |
| 6 | Michael Bush, OAK | 23 | 3 | 27 |
| 6 | Shonn Greene, NYJ | 24 | 3 | 27 |
| 8 | Ryan Mathews, SD | 20 | 6 | 26 |
| 9 | Marshawn Lynch, SEA | 23 | 2 | 25 |
| 9 | Steven Jackson, STL | 20 | 3 | 25 |
| 11 | Felix Jones, DAL | 16 | 6 | 23 |
| 12 | Cedric Benson, CIN | 21 | 1 | 22 |
| 12 | Michael Turner, ATL | 21 | 0 | 22 |
| 12 | Toby Gerhart, MIN | 19 | 3 | 22 |
| 15 | Arian Foster, HOU | 15 | 4 | 20 |
| 15 | Brandon Jacobs, NYG | 19 | 0 | 20 |
| 15 | LeGarrette Blount, TB | 18 | 1 | 20 |
| 15 | Reggie Bush, MIA | 14 | 5 | 20 |
| 19 | Rashard Mendenhall, PIT | 18 | 0 | 18 |
| 19 | Willis McGahee, DEN | 17 | 1 | 18 |
| 21 | Chris Johnson, TEN | 11 | 5 | 17 |
| 21 | Jonathan Stewart, CAR | 8 | 4 | 17 |
| 23 | Beanie Wells, ARI | 15 | 1 | 16 |
| 23 | C.J. Spiller, BUF | 12 | 3 | 16 |
| 25 | Chris Ivory , NO | 13 | 0 | 14 |
| 25 | Kahlil Bell, CHI | 9 | 5 | 14 |
| 25 | Keiland Williams , DET | 12 | 2 | 14 |
| 28 | Darren Sproles, NO | 5 | 7 | 13 |
| 28 | LaDainian Tomlinson, NYJ | 9 | 2 | 13 |
| 28 | Montario Hardesty, CLE | 11 | 2 | 13 |
| 28 | Pierre Thomas, NO | 6 | 6 | 13 |
| 32 | Jackie Battle , KC | 10 | 2 | 12 |
| 33 | Ben Tate, HOU | 8 | 3 | 11 |
| 33 | Danny Woodhead, NE | 8 | 1 | 11 |
| 33 | Frank Gore, SF | 10 | 0 | 11 |
| 33 | John Kuhn , GB | 10 | 0 | 11 |
| 33 | Kendall Hunter, SF | 8 | 2 | 11 |
| 33 | Peyton Hillis, CLE | 10 | 0 | 11 |
| 33 | Ryan Grant, GB | 10 | 1 | 11 |
| 40 | Donald Brown, IND | 9 | 1 | 10 |
| 41 | Ahmad Bradshaw, NYG | 8 | 1 | 9 |
| 41 | Daniel Thomas, MIA | 7 | 2 | 9 |
| 41 | DeAngelo Williams, CAR | 7 | 1 | 9 |
| 44 | Bernard Scott, CIN | 6 | 2 | 8 |
| 44 | Cadillac Williams, STL | 8 | 0 | 8 |
| 44 | Evan Royster, WAS | 6 | 2 | 8 |
| 47 | Lance Ball , DEN | 1 | 4 | 7 |
| 47 | Mike Tolbert, SD | 6 | 0 | 7 |
| 49 | BenJarvus Green-Ellis, NE | 5 | 0 | 6 |
| 49 | Bilal Powell, NYJ | 6 | 0 | 6 |
| 49 | D.J. Ware, NYG | 2 | 3 | 6 |
| 49 | Demarco Murray, DAL | 5 | 1 | 6 |
| 49 | Isaac Redman, PIT | 6 | 0 | 6 |
| 49 | Justin Forsett, SEA | 1 | 2 | 6 |
| 49 | Marcel Reece , OAK | 2 | 4 | 6 |
| 49 | Ricky Williams, BAL | 0 | 7 | 6 |
| 57 | Delone Carter, IND | 5 | 0 | 5 |
| 57 | Maurice Morris , DET | 4 | 1 | 5 |
| 57 | Tashard Choice, BUF | 1 | 1 | 5 |
| 57 | Thomas Jones, KC | 5 | 0 | 5 |
| 61 | Chris Ogbonnaya, CLE | 2 | 0 | 4 |
| 61 | Jason Snelling, ATL | 3 | 1 | 4 |
| 61 | Jeremiah Johnson, DEN | 2 | 2 | 4 |
| 61 | Kevin Faulk , NE | 3 | 1 | 4 |
| 61 | Kregg Lumpkin, TB | 1 | 2 | 4 |
| 61 | Larod Stephens-Howling, ARI | 2 | 2 | 4 |
| 61 | Rock Cartwright , OAK | 1 | 2 | 4 |
| 61 | Vonta Leach, BAL | 3 | 1 | 4 |
| 69 | Brandon Saine, GB | 1 | 2 | 3 |
| 69 | Henry Hynoski, NYG | 0 | 2 | 3 |
| 69 | Jacob Hester , SD | 3 | 0 | 3 |
| 69 | Jacquizz Rodgers, ATL | 1 | 2 | 3 |
| 69 | Joseph Addai, IND | 2 | 0 | 3 |
| 69 | Mewelde Moore , PIT | 3 | 0 | 3 |
| 69 | Ronnie Brown, PHI | 3 | 0 | 3 |
| 69 | Tony Fiammetta, DAL | 2 | 1 | 3 |
| 77 | Aaron Brown , DET | 1 | 1 | 2 |
| 77 | Brock Bolen, JAX | 1 | 0 | 2 |
| 77 | Bruce Miller, SF | 0 | 2 | 2 |
| 77 | Chester Taylor , ARI | 0 | 2 | 2 |
| 77 | Darrel Young , WAS | 0 | 1 | 2 |
| 77 | Jed Collins, NO | 0 | 2 | 2 |
| 77 | Lex Hilliard, MIA | 2 | 0 | 2 |
| 77 | Michael Robinson , SEA | 0 | 0 | 2 |
| 77 | Mossis Madu, TB | 1 | 1 | 2 |
| 86 | Chris Pressley, CIN | 0 | 0 | 1 |
| 86 | Erik Lorig, TB | 0 | 1 | 1 |
| 86 | Greg Jones, JAX | 0 | 0 | 1 |
| 86 | Javon Ringer, TEN | 0 | 1 | 1 |
| 86 | Jerious Norwood, STL | 1 | 0 | 1 |
| 86 | Johnny White, BUF | 1 | 0 | 1 |
| 86 | Lawrence Vickers , CLE | 0 | 0 | 1 |
| 86 | Leon Washington , SEA | 1 | 0 | 1 |
| 86 | Spencer Larsen, DEN | 1 | 0 | 1 |
| 86 | DuJuan Harris, JAX | 1 | 0 | 1 |
Log in or register to post comments