Rummy's FINAL 2012 NFL 1st Round Mock Draft
Submitted by

John

on Sun, 04/22/2012 - 4:29pm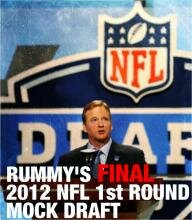 The 2012 NFL Draft kicks off on Thursday, and by now the media information/misinformation stream is tapering off to a slow trickle. This is easily one of the toughest years to navigate, especially after the 6th pick. This is one man's assessment. Enjoy.
1. Colts - Andrew Luck: G.M. Ryan Grigson finally confirmed the obvious last week,t hey're taking the most talked about QB in the last three years. Yaaaaaawn!
2. Redskins (via trade with the Rams) - Robert Griffin III: Forget the last minute stupidity from certain "scouts" who call this kid selfish. I hope he is selfish, because the Skins will need him to selfishly take the ball into the end zone.
3. Vikings - Matt Kalil: Spielman might be shopping this pick, but the Vikes need a franchise LT.  Whether it's Ponder or a veteran QB, Kalil will keep their pocket clean and open up lanes for Adrian Peterson.
4. Browns - Trent Richardson: It's still a very strong possibility that Holmgren and Heckert will try to trade down and keep building a strong foundation, but a talent like Richardson is rare. If they feel this is too soon for an upside project like Tannehill, then the call is to surround Colt McCoy with a security blanket in a back who can give you 20+ carries year one. They can easily acquire a guy like Weeden, Cousins or Lindley much later as well, all of which are best suited for a horizontal game like the West Coast Offense
5. Buccaneers - Morris Claiborne: The top 5 rounds out with the best corner in the draft going to new HC, Greg Schiano. Claiborne is the closest thing to a complete corner in the draft, and fills a big need with a potential future release of head case CB, Aqib Talib.
6. Rams - Fletcher Cox: The rumor of the Eagles wanting Fletcher Cox may have legs, but the price would have been too steep for them to move up. Instead, the already draft pick rich Rams take the best DT on the board and continue to improve their talented young DL.
7. Panthers (via trade with JAX) - Michael Floyd: The Jags wanted to move down, and while they only move two spots, this affords the Panthers to move up rather inexpensively to get their guy Floyd. Opposite Steve Smith, Cam Newton has legit weapons to challenge the Saints and Falcons in the NFC South.
8. Dolphins - Ryan Tannehill: With a mighty swing and miss on Peyton Manning, moving up for RG3, and getting stiff armed by a scrub like Alex Smith, Stephen Ross and Joe Philbin will have to look to the future that doesn't feature Matt Moore. Tannehill's connection to new OC Mike Sherman makes for an easy trust factor as far as navigating the offense is concerned, and the Phins get their franchise QB.
9. Jaguars (via trade with Carolina) - Melvin Ingram: Gene Smith was able to move down, collect additional picks, and snare one of the best defensive players in the draft in Ingram. With a deep WR draft, addressing the defense first presented more value.
10. Bills - Stephon Gilmore: The most compelling pick in the draft, the Bills could have taken Ingram (who went one pick before), or taken a WR like Blackmon. In the end, Buddy Nix decided that defending against Tom Brady was their top priority this off season. Tough call, but a smart one.
11. Chiefs - Luke Kuechly: I've compared Kuechly to a taller, rangier London Fletcher, on and off the field. Scott Pioli understands what that type of production and character can mean to a team, much like Jerod Mayo in New England.  Kuechly is a lunchpail workhorse.
12. Seahawks - Quinton Coples: Sure he's inconsistent on tape, but he has the make up to be a ferocious 4-3 DE for Pete Carroll and Co. Could he bust? Absolutely, but Schneider is too enamored with his upside to pass him over.
13. Cardinals - Justin Blackmon: It could have easily been an OT in this spot, but the temptation of opening up single coverage for Larry Fitzgerald by pairing him with the talented Blackmon will keep the secondaries of the NFC West honest and make this passing attack explosive for Kolb/ Skelton.
14. Jets (via trade with Dallas) - Courtney Upshaw: Rex Ryan can never be accused of closely guarding his man crushes on draft picks. He's liked Upshaw since the Draft process began, and with Dallas and others likely snatching up the versatile DL/hybrid, they make their annual preemptive strike and dance with the devil that is Jerry Jones.
15. Eagles - Michael Brockers: With Howie Roseman wisely adding veteran Pro-Bowl ILB DeMeco Ryans from Houston in free agency, the front office now turns its attention to the DL and the high upside of Brockers. There was a ton of pre-Draft smoke about moving up to get Cox, but in the end they got a great value and addressed the same need.
16. Cowboys (via trade with the Jets) - Mark Barron: The Cowboys could address their interior OL here, or reach on a DL, but in the end they like Mark Barron. The Dallas secondary has been bad ever since Deion Sanders left town, and safety has been no exception. The versatile Barron gives them the best safety in the draft to pair with newly acquired CB Brandon Carr.
17. Bengals - David DeCastro: Too good to pass up, the Bengals can address DE depth and WR later in the draft.  Getting a Steve Hutchinson clone is a no-brainer. Plug and play, he'll be an All-Pro from day one, ala Logan Mankins.
18. Chargers - Shea McClellin: I wanted desperately to mock an OT to San Diego at #18, but alas, the A.J. Smith propensity to add yet another 3-4 OLB was too strong. Let's hope McClellin doesn't fall into the black hole of mediocrity that is home to former picks Shawne Merriman and Larry English. 
19. Bears - Cordy Glenn: The Bears got two WRs for the price of one when they added talented moon bat Brandon Marshall. Now they can focus on adding protection up front for Cutler. Glenn offers OT/OG versatility and could start week one, immediately upgrading this front. Although his face won't say so, Jay Cutler will be pleased.
20. Titans - Dre Kirkpatrick: No Finnegan? No problem. Kirkpatrick is longer, rangier, and much cheaper than the scrappy Finnegan who left via FA to St. Louis. In todays NFL, more and more CBs will fit this prototype to defend against guys like Andre Johnson.
21. Bengals - Kendall Wright: Forget the last minute knocks on this kid, teams want him to fall out of round one...no worries, he won't. The best separation and route running of any WR in this class, his 5'-10" size means very little when you're five yards ahead of the defender. A. J. Green's life just got a lot easier.
22. Browns - Brandon Weeden: I considered WR in this spot, but if the Browns waited on Weeden to be there in the 2nd RD, they'd likely be beaten to the punch by another QB hungry team. Instead, they take their QB and wait to acquire OL help and WRs.
23. Lions - Janoris Jenkins: He's been mocked to the Lions before, and the more I think about it, the more it makes sense. A true press corner with attitude, aligned with a team that fits that same profile.
24. Steelers - Dont'a Hightower: The Steelers don't ever get cute in the draft. They add depth and value.  Considering they're getting a little long in the tooth on defense, especially at ILB, the aggressive Hightower is a natural fit in Dick Lebeau's system.
25. Broncos - Dontari Poe: My last mock had Denver taking a chance on project/upside WR Stephen Hill to add a new toy for Peyton Manning. However, with Dontari Poe (another project) tumbling down draft boards, defensive minded HC John Fox is willing to take a chance to bolster his improving young defense.
26. Texans - Riley Reiff: Had ideal #2 WR Mohamed Sanu here in my last mock, but with so much WR depth in this class, the importance of addressing the loss of Eric Winston was priority one. Reiff, a top technician, has been compared to fellow Hawkeye, Brian Bulaga, but that's underselling the talented tackle. Short armed or not, he can flat out play, and he's a bargain at this point.
27. Patriots - Chandler Jones: In my last mock, I had the Pats taking elephant LB Andre Branch. The more I watched Branch, the less consistent he seemed on film. He flashed, then disappeared. Enter the uber-athletic Jones, who has yet to completely fill out his long frame. I admit, I wasn't keen on the kid at first, but the more tape I watched, the more I was impressed by his athleticism and motor. He is a strong pass rusher, and is the kid brother of Jon "Bones" Jones, so his handwork is already more impressive than some of the more highly touted edge rushers. Solid in run support, his ceiling is sky high.
28. Packers - Nick Perry: The "People's Champs" are always in the market to add the best player available, and this time around it's an OLB opposite Clay Mathews. Perry projects as a 4-3 DE and potentially as a 3-4 OLB. He'll fit in nicely in Dom Capers scheme.
29. Ravens - Peter Konz: This pick hasn't changed since the last mock, even with Jason Brown on board. Konz can kick outside to guard and eventually be the long term center if the need arises. Flexibility. Ozzie pick.
30. Niners - Coby Fleener: I was hesitant to place any TE in this year's class in round 1, but the connection of the once former recruit of Jim Harbaugh may be too strong to pass up. Paired with stud Vernon Davis, the Niners follow suit in this copy cat league of two TE sets.
31. Browns (via trade with NE) - Bobby Massie: With All-World LT Joe Thomas anchoring one side of their OL, Tom Heckert moves up a few spots from RD2 to grab a RT to solidify his OL . The Giants and Rams would have been natural players for the big bodied OT out of Ole Miss, so moving up was imperative.
32. Giants - Devon Still: Leave it to Jerry Reese & Co. to take yet another DL. The value was too solid for Coughlin to pass up, and while the Giants have needs for RB and WR depth, this is a deep class at both positions.
Check out @RyFo18's cumulative Mock Draft to compare notes, and enjoy the NFL Draft Weekend. Cheers!
Log in or register to post comments