Week 15 Running Back Carries/Targets: The Hillis You Needed 15 Weeks Ago...
Submitted by

ryan

on Tue, 12/20/2011 - 1:41am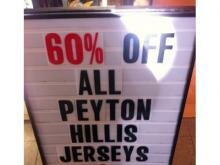 RB Targets | WR/TE Targets
So this Peyton Hillis outburst came completely unexpected.  It seems crazy to analyze this too much, because how many fantasy teams are really still alive with Hillis as a running back?  If you've managed to squeak by with other options to this point, the workload for Hillis is encouraging…until you realize he has a week 16 matchup against Baltimore.  Despite the Ravens giving up a big game to Ryan Mathews in week 15, don't expect the anemic Browns offense to have the same luck.  Hillis shapes up as a very dicey flex play as we head into the money games.
Hoarders
You show me a person that expected a 31.7 point outburst from C.J. Spiller, and I'll in turn show you a person that is a liar.  In the 5 weeks prior, the Dolphins had not allowed any team to rush for more than 85 yards, while holding teams to 2.8 ypc.  If you saw his production waste away on your bench, you definitely weren't alone.
Ryan Mathews is currently in the midst of a very impressive 4-game stretch.  The 28 touches were a season-high, and a week 16 matchup against Detroit is not the least bit scary. 
Reggie Bush ran all over a Bills' defense that now has given up the third most fantasy points to opposing running backs.  Coming off of his third consecutive 100-yard performance, Bush figures to once again be very involved in the Dolphins' game plan in week 16 against the Patriots.  Daniel Thomas has quickly become an afterthought in the Dolphins' backfield.
What Marshawn Lynch lacked in yardage, he made up for by racking up a couple of scores.  Failing to eclipse the 100-yard rushing mark for only the 2nd time in 7 weeks, Lynch heads into an unfortunate week 16 matchup against a 49ers defense that has still not allowed a single rushing touchdown in 14 games.
Arian Foster continues to be as consistent as they come, and he's established the 20-point mark as his floor for fantasy production.  Owners couldn't ask for anything more than a week 16 matchup against the Colts.
Felix Jones once again was the workhorse in the Cowboys backfield, and now has consecutive 100-yard rushing games since Demarco Murray was lost for the season.  Heading into another fairly favorable matchup against Philly, owners are still seeking a little bit of 1-on-1 time between Felix and the endzone.
Kahlil Bell surprisingly emereged with more carries (15) than Marion Barber (11), and also saw pretty much all of the work in the passing game.  It goes without saying that Bell is a must add in just about every format.  You might not use him for your championship or 3rd place games, but he definitely has some upside in PPR leagues...enough that you don't want to see him in your opponent's lineup.
Thanks For Nothing, Shitbum

s
Last week, fantasy owners loved Marion Barber, while Bears fans loathed his boneheaded antics that cost his team a week 14 win.  Thanks to a 3.3 point performance in week 15, anyone that was on Barber's side has since turned against him. 
Ben Tate seemed like a solid play against the Panthers sieve run D, but it just didn't come to fruition.  Tate failed to get anything going on 7 carries, and quickly became lost in the game plan as the Texans fell behind early.  It's going to take some huge stones to give him another start in week 16 against the Colts—another matchup that could seemingly play into his favor.
As predicted, Brandon Jacobs was pretty much a no-show in week 16 after his best performance of the season.  He's a reach in anything other than TD heavy leagues.
LeGarrette Blount was held to under 25 yards for the 3rd time this season.  Blount just isn't worth the headache, as he seems to continuously be the only "workhorse" running back subject to these atrocious performances.
| | | | | | |
| --- | --- | --- | --- | --- | --- |
| Rank | Player | CAR | REC | TGTS | CAR+TGTS |
| 1 | Peyton Hillis, CLE | 26 | 1 | 3 | 29 |
| 2 | Ryan Mathews, SD | 26 | 2 | 2 | 28 |
| 2 | Steven Jackson, STL | 18 | 9 | 10 | 28 |
| 4 | Roy Helu, WAS | 23 | 3 | 4 | 27 |
| 4 | Chris Johnson, TEN | 15 | 8 | 11 | 26 |
| 4 | Felix Jones, DAL | 22 | 3 | 4 | 26 |
| 7 | Reggie Bush, MIA | 25 | 1 | 1 | 26 |
| 8 | Michael Bush, OAK | 18 | 7 | 7 | 25 |
| 9 | Cedric Benson, CIN | 22 | 1 | 2 | 24 |
| 10 | C.J. Spiller, BUF | 12 | 9 | 11 | 23 |
| 11 | Arian Foster, HOU | 16 | 5 | 6 | 22 |
| 11 | Marshawn Lynch, SEA | 20 | 2 | 2 | 22 |
| 11 | Ryan Grant, GB | 12 | 3 | 10 | 22 |
| 11 | Shonn Greene, NYJ | 18 | 1 | 4 | 22 |
| 15 | Frank Gore, SF | 18 | 0 | 3 | 21 |
| 15 | Kahlil Bell, CHI | 15 | 5 | 6 | 21 |
| 15 | Michael Turner, ATL | 19 | 2 | 2 | 21 |
| 15 | Ray Rice, BAL | 10 | 9 | 11 | 21 |
| 19 | LeSean McCoy, PHI | 18 | 2 | 2 | 20 |
| 20 | Rashard Mendenhall, PIT | 15 | 3 | 4 | 19 |
| 21 | Chris Ivory , NO | 18 | 0 | 0 | 18 |
| 21 | Kevin Smith , DET | 15 | 1 | 3 | 18 |
| 21 | Maurice Jones-Drew, JAX | 17 | 1 | 1 | 18 |
| 24 | Donald Brown, IND | 16 | 1 | 1 | 17 |
| 25 | Beanie Wells, ARI | 15 | 1 | 1 | 16 |
| 25 | Thomas Jones, KC | 15 | 1 | 1 | 16 |
| 27 | DeAngelo Williams, CAR | 15 | 0 | 0 | 15 |
| 27 | Lance Ball , DEN | 11 | 2 | 4 | 15 |
| 29 | Ahmad Bradshaw, NYG | 10 | 3 | 4 | 14 |
| 29 | Darren Sproles, NO | 8 | 5 | 6 | 14 |
| 29 | Jonathan Stewart, CAR | 11 | 2 | 3 | 14 |
| 29 | Sammy Morris , DAL | 12 | 0 | 2 | 14 |
| 33 | Joseph Addai, IND | 11 | 2 | 2 | 13 |
| 34 | BenJarvus Green-Ellis, NE | 10 | 2 | 2 | 12 |
| 35 | Adrian Peterson, MIN | 10 | 0 | 1 | 11 |
| 35 | Daniel Thomas, MIA | 11 | 0 | 0 | 11 |
| 35 | Jackie Battle , KC | 10 | 1 | 1 | 11 |
| 35 | Marion Barber, CHI | 11 | 0 | 0 | 11 |
| 35 | Stevan Ridley, NE | 11 | 0 | 0 | 11 |
| 40 | Evan Royster, WAS | 10 | 0 | 0 | 10 |
| 40 | Mike Tolbert, SD | 8 | 2 | 2 | 10 |
| 40 | Pierre Thomas, NO | 8 | 2 | 2 | 10 |
| 43 | Jacquizz Rodgers, ATL | 8 | 1 | 1 | 9 |
| 43 | Jason Snelling, ATL | 5 | 4 | 4 | 9 |
| 43 | LeGarrette Blount, TB | 9 | 0 | 0 | 9 |
| 43 | Le'Ron McClain, KC | 4 | 4 | 5 | 9 |
| 47 | Ben Tate, HOU | 7 | 1 | 1 | 8 |
| 47 | Brandon Jacobs, NYG | 8 | 0 | 0 | 8 |
| 47 | Danny Woodhead, NE | 7 | 1 | 1 | 8 |
| 47 | Kregg Lumpkin, TB | 0 | 5 | 8 | 8 |
| 47 | Tashard Choice, BUF | 5 | 3 | 3 | 8 |
| 52 | Bernard Scott, CIN | 7 | 0 | 0 | 7 |
| 52 | Dexter McCluster, KC | 5 | 2 | 2 | 7 |
| 52 | Justin Forsett, SEA | 6 | 1 | 1 | 7 |
| 52 | LaDainian Tomlinson, NYJ | 3 | 4 | 4 | 7 |
| 52 | Willis McGahee, DEN | 7 | 0 | 0 | 7 |
| 57 | Chester Taylor , ARI | 2 | 3 | 4 | 6 |
| 57 | Ricky Williams, BAL | 3 | 1 | 3 | 6 |
| 57 | Ronnie Brown, PHI | 6 | 0 | 0 | 6 |
| 57 | Toby Gerhart, MIN | 2 | 4 | 4 | 6 |
| 61 | Anthony Dixon, SF | 5 | 0 | 0 | 5 |
| 61 | Darrel Young , WAS | 4 | 1 | 1 | 5 |
| 61 | Larod Stephens-Howling, ARI | 3 | 2 | 2 | 5 |
| 64 | Cadillac Williams, STL | 3 | 1 | 1 | 4 |
| 64 | Joe McKnight, NYJ | 3 | 1 | 1 | 4 |
| 64 | Kendall Hunter, SF | 2 | 2 | 2 | 4 |
| 64 | Lawrence Vickers , CLE | 0 | 4 | 4 | 4 |
| 64 | Marcel Reece , OAK | 1 | 3 | 3 | 4 |
| 69 | Ahmard Hall , TEN | 0 | 2 | 3 | 3 |
| 69 | Isaac Redman, PIT | 2 | 0 | 1 | 3 |
| 69 | Jamie Harper, TEN | 2 | 1 | 1 | 3 |
| 69 | John Kuhn , GB | 2 | 1 | 1 | 3 |
| 69 | Kevin Faulk , NE | 1 | 0 | 2 | 3 |
| 69 | Leon Washington , SEA | 3 | 0 | 0 | 3 |
| 69 | Mewelde Moore , PIT | 1 | 2 | 2 | 3 |
| 69 | Cedric Peerman, CIN | 2 | 0 | 1 | 3 |
| 77 | D.J. Ware, NYG | 0 | 1 | 2 | 2 |
| 77 | Dion Lewis, PHI | 2 | 0 | 0 | 2 |
| 77 | DuJuan Harris, JAX | 1 | 0 | 1 | 2 |
| 77 | Henry Hynoski, NYG | 0 | 2 | 2 | 2 |
| 77 | Jacob Hester , SD | 2 | 0 | 0 | 2 |
| 77 | Jed Collins, NO | 1 | 1 | 1 | 2 |
| 77 | Michael Robinson , SEA | 0 | 1 | 2 | 2 |
| 77 | Mossis Madu, TB | 0 | 2 | 2 | 2 |
| 77 | Richie Brockel, CAR | 1 | 1 | 1 | 2 |
| 86 | Alfonso Smith, ARI | 1 | 0 | 0 | 1 |
| 86 | Anthony Sherman, ARI | 0 | 1 | 1 | 1 |
| 86 | Bruce Miller, SF | 1 | 0 | 0 | 1 |
| 86 | Charles Clay, MIA | 0 | 1 | 1 | 1 |
| 86 | Chris Ogbonnaya, CLE | 0 | 1 | 1 | 1 |
| 86 | Jeremiah Johnson, DEN | 1 | 0 | 0 | 1 |
| 86 | Jerious Norwood, STL | 1 | 0 | 0 | 1 |
| 86 | Jerome Felton, IND | 0 | 1 | 1 | 1 |
| 86 | John Conner , NYJ | 1 | 0 | 0 | 1 |
| 86 | Keiland Williams , DET | 1 | 0 | 0 | 1 |
| 86 | Lorenzo Booker, MIN | 0 | 1 | 1 | 1 |
Log in or register to post comments
None
Yahoo! Fantasy Football: It's Game Time!  http://www.dpbolvw.net/click-5968853-11098850" target="_top">Join nowhttp://www.awltovhc.com/image-5968853-11098850" width="1" height="1" border="0"/>