Week 15 Wide Receiver & Tight End Target Report: Red Hot Roddy White
Submitted by

ryan

on Tue, 12/20/2011 - 1:30am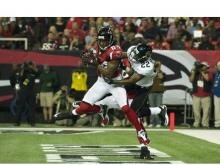 RB Targets | WR/TE Targets
Roddy White continued his recent tear, likely carrying many a fantasy team into the finals with his 10-catch, 2-touchdown performance.  Now having scored in 4 straight for the second time in his storied career, White now has a ridiculous 66 targets over the last 5 weeks, eclipsing Wes Welker for the season lead with 154 to Welker's 143.  Heading into a week 16 showdown with the Saints, the Falcons will continue to lean heavily on their star wide receiver to keep pace with a Saints team that has given up an average of 35.6 points per game to fantasy wide receivers.
As for the rest of the notables from week 15...
Season Savers
Aaron Hernandez didn't hesitate to take advantage of an uptick in targets in Deion Branch's absence.  Hernandez owners will hope Branch continues to miss time, and if that's the case, he makes for a solid TE or flex play.
After a relatively quiet (by Calvin's standards) 5 weeks, Calvin Johnson showed up for his owners big time.  The timing couldn't have been better.  His 42.4 PPR points were the second most (to Welker's 51.6) for a wide receiver this season in a single week.
Demaryius Thomas's high prospects against the soft Patriots secondary played out with a 7-catch 116-yard performance on 13 targets.  There is no question Thomas has taken over Decker as Tebow's go-to receiver.  A week 16 matchup against the Bills should also yield another solid game for Thomas.
Nate Washington turned in yet another decent performance on 13 targets, and has quietly emerged the 15th best receiver in PPR leagues in terms of points—ahead of names like Dwayne Bowe and Dez Bryant.
Nate Washington's teammate Jared Cook turned in a performance that benefitted 0.0% of fantasy owners.  This is the first time all season that Cook has recorded more than 5 receptions.  Coach Mike Munchak vowed to get Cook more involved going forward, but this one can be filed under the "too little, too late" category for fake footballers.
Darius Heyward-Bey saw career highs in both yardage (155) and catches (8).  It's going to take a little more consistency from him in 2012 to become a legitimate fantasy option, but he's certainly flashed the potential.
Torrey Smith's upside makes him a much better option than Anquan Boldin at this point in Boldin's career.  Despite having no points in the first two weeks of the season, Smith has still out-pointed Boldin in his rookie campaign.
Predicting when Lance Moore will go off is like trying to predict whether or not the Ravens will show up to actually play on a given Sunday.  Moore now has 7 games of 10 points or less and 4 games of 20 points or more.  That kind of spotty production only makes sense to gamble on in extremely deep leagues.
Season Crushers
The most wasted draft pick (once again) goes to Lee Evans.  The only guy that is both a sleeper and a fantasy dud on a yearly basis, his 4 catches for 74 yards this season don't even make Bryant Johnson envious.
Any Jaguars' wide receiver…what a joke of a unit.  Outside of a one-game wonder from Jason Hill, no other Jaguars pass catcher has topped 100 yards in a single game this season.
Plaxico Burress hasn't topped 80-yards receiving all season, and sports a 8rec/96yds/2TD line over the last 4 weeks.  His best days are clearly behind him.
Jordy Nelson failed to step up in Greg Jennings' absence and posted his 2nd lowest point total of the season.  Expect better results next week against Chicago if you managed to somehow sneak into the finals.
Brandon LaFell, while clearly not a big fantasy asset, posted a goose-egg on 5 targets. 
A pair of 8-point performances by Welker and Bowe weren't want fantasy owners dreamed of heading into this critical point of the season, but it still beats the 0.0 point effort that Tampa's Mike Williams put up.  Williams won't be found on the list below, as he didn't see a single target.
| | | | | |
| --- | --- | --- | --- | --- |
| Rank | Player | REC | TGTS | CT% |
| 1 | Roddy White , ATL | 10 | 16 | 62.5% |
| 2 | Calvin Johnson , DET | 9 | 14 | 64.3% |
| 3 | Demaryius Thomas , DEN | 7 | 13 | 53.8% |
| 3 | Nate Washington , TEN | 7 | 13 | 53.8% |
| 5 | Hakeem Nicks , NYG | 5 | 12 | 41.7% |
| 5 | Mike Wallace , PIT | 5 | 12 | 41.7% |
| 7 | Aaron Hernandez, NE | 9 | 11 | 81.8% |
| 7 | Jared Cook, TEN | 9 | 11 | 81.8% |
| 7 | Nate Burleson , DET | 7 | 11 | 63.6% |
| 7 | Brandon Pettigrew, DET | 5 | 11 | 45.5% |
| 11 | Lavelle Hawkins , TEN | 8 | 10 | 80.0% |
| 11 | Jimmy Graham, NO | 7 | 10 | 70.0% |
| 11 | Andre Roberts , ARI | 6 | 10 | 60.0% |
| 11 | Vernon Davis, SF | 6 | 10 | 60.0% |
| 11 | Antonio Brown , PIT | 5 | 10 | 50.0% |
| 11 | Stevie Johnson , BUF | 5 | 10 | 50.0% |
| 11 | Titus Young, DET | 5 | 10 | 50.0% |
| 11 | Jermichael Finley, GB | 3 | 10 | 30.0% |
| 19 | Darius Heyward-Bey, OAK | 8 | 9 | 88.9% |
| 19 | Marques Colston , NO | 8 | 9 | 88.9% |
| 19 | Todd Heap, ARI | 7 | 9 | 77.8% |
| 19 | AJ Green, CIN | 6 | 9 | 66.7% |
| 19 | Jabar Gaffney , WAS | 6 | 9 | 66.7% |
| 19 | Brandon Lloyd , STL | 5 | 9 | 55.6% |
| 19 | Greg Little, CLE | 5 | 9 | 55.6% |
| 19 | Victor Cruz, NYG | 5 | 9 | 55.6% |
| 19 | Heath Miller, PIT | 5 | 9 | 55.6% |
| 19 | Austin Pettis, STL | 4 | 9 | 44.4% |
| 19 | Early Doucet , ARI | 3 | 9 | 33.3% |
| 30 | Miles Austin , DAL | 5 | 8 | 62.5% |
| 30 | Brandon Marshall , MIA | 3 | 8 | 37.5% |
| 30 | Larry Fitzgerald , ARI | 3 | 8 | 37.5% |
| 33 | David Nelson , BUF | 6 | 7 | 85.7% |
| 33 | Torrey Smith, BAL | 6 | 7 | 85.7% |
| 33 | Steve Smith , CAR | 5 | 7 | 71.4% |
| 33 | Golden Tate , SEA | 4 | 7 | 57.1% |
| 33 | Michael Crabtree , SF | 4 | 7 | 57.1% |
| 33 | Kellen Winslow, TB | 4 | 7 | 57.1% |
| 33 | Chastin West, JAX | 3 | 7 | 42.9% |
| 33 | Percy Harvin , MIN | 3 | 7 | 42.9% |
| 33 | Devin Aromashodu , MIN | 2 | 7 | 28.6% |
| 42 | T.J. Houshmandzadeh, OAK | 6 | 6 | 100.0% |
| 42 | Jerricho Cotchery , PIT | 5 | 6 | 83.3% |
| 42 | Julio Jones, ATL | 5 | 6 | 83.3% |
| 42 | Lance Moore , NO | 5 | 6 | 83.3% |
| 42 | Malcom Floyd , SD | 5 | 6 | 83.3% |
| 42 | Brent Celek, PHI | 5 | 6 | 83.3% |
| 42 | Santonio Holmes , NYJ | 4 | 6 | 66.7% |
| 42 | Steve Breaston , KC | 4 | 6 | 66.7% |
| 42 | Wes Welker , NE | 4 | 6 | 66.7% |
| 42 | Brad Smith , BUF | 3 | 6 | 50.0% |
| 42 | Jordan Norwood, CLE | 3 | 6 | 50.0% |
| 42 | Vincent Jackson , SD | 3 | 6 | 50.0% |
| 42 | Dustin Keller, NYJ | 3 | 6 | 50.0% |
| 42 | Damian Williams , TEN | 2 | 6 | 33.3% |
| 42 | Dane Sanzenbacher, CHI | 2 | 6 | 33.3% |
| 42 | Derek Hagan , OAK | 2 | 6 | 33.3% |
| 58 | Dwayne Bowe , KC | 4 | 5 | 80.0% |
| 58 | Kyle Williams , SF | 4 | 5 | 80.0% |
| 58 | Jason Witten, DAL | 4 | 5 | 80.0% |
| 58 | Rob Gronkowski, NE | 4 | 5 | 80.0% |
| 58 | Zach Miller, SEA | 4 | 5 | 80.0% |
| 58 | Brian Hartline , MIA | 3 | 5 | 60.0% |
| 58 | Jeremy Maclin , PHI | 3 | 5 | 60.0% |
| 58 | Mario Manningham , NYG | 3 | 5 | 60.0% |
| 58 | Mohamed Massaquoi , CLE | 3 | 5 | 60.0% |
| 58 | Jermaine Gresham, CIN | 3 | 5 | 60.0% |
| 58 | Marcedes Lewis, JAX | 3 | 5 | 60.0% |
| 58 | Denarious Moore, OAK | 2 | 5 | 40.0% |
| 58 | Jerome Simpson , CIN | 2 | 5 | 40.0% |
| 58 | Santana Moss , WAS | 2 | 5 | 40.0% |
| 58 | Owen Daniels, HOU | 2 | 5 | 40.0% |
| 58 | Brandon LaFell , CAR | 0 | 5 | 0.0% |
| 74 | Dez Bryant , DAL | 4 | 4 | 100.0% |
| 74 | Randall Cobb, GB | 4 | 4 | 100.0% |
| 74 | Ruvell Martin , BUF | 3 | 4 | 75.0% |
| 74 | Ed Dickson, BAL | 3 | 4 | 75.0% |
| 74 | Lance Kendricks, STL | 3 | 4 | 75.0% |
| 74 | Bryant Johnson , DET | 2 | 4 | 50.0% |
| 74 | Donald Driver , GB | 2 | 4 | 50.0% |
| 74 | James Jones , GB | 2 | 4 | 50.0% |
| 74 | Jordy Nelson , GB | 2 | 4 | 50.0% |
| 74 | Kevin Walter , HOU | 2 | 4 | 50.0% |
| 74 | Mike Williams , SEA | 2 | 4 | 50.0% |
| 74 | Pierre Garcon , IND | 2 | 4 | 50.0% |
| 74 | Robert Meachem , NO | 2 | 4 | 50.0% |
| 74 | Anthony Fasano, MIA | 2 | 4 | 50.0% |
| 74 | Jeremy Shockey, CAR | 2 | 4 | 50.0% |
| 74 | Joel Dreessen, HOU | 2 | 4 | 50.0% |
| 74 | Jon Baldwin, KC | 1 | 4 | 25.0% |
| 74 | Roy Williams , CHI | 1 | 4 | 25.0% |
| 74 | Lee Evans , BAL | 0 | 4 | 0.0% |
| 93 | Danario Alexander , STL | 3 | 3 | 100.0% |
| 93 | Dezmon Briscoe , TB | 3 | 3 | 100.0% |
| 93 | Laurent Robinson, DAL | 3 | 3 | 100.0% |
| 93 | Reggie Wayne , IND | 3 | 3 | 100.0% |
| 93 | Dennis Pitta, BAL | 3 | 3 | 100.0% |
| 93 | Jordan Cameron, CLE | 3 | 3 | 100.0% |
| 93 | Kevin Boss, OAK | 3 | 3 | 100.0% |
| 93 | Martellus Bennett, DAL | 3 | 3 | 100.0% |
| 93 | Anquan Boldin , BAL | 2 | 3 | 66.7% |
| 93 | Chaz Schilens , OAK | 2 | 3 | 66.7% |
| 93 | Donte' Stallworth , WAS | 2 | 3 | 66.7% |
| 93 | Jarett Dillard, JAX | 2 | 3 | 66.7% |
| 93 | Jeremy Kerley, NYJ | 2 | 3 | 66.7% |
| 93 | Taylor Price , JAC | 2 | 3 | 66.7% |
| 93 | Terrance Copper , KC | 2 | 3 | 66.7% |
| 93 | Bear Pascoe, NYG | 2 | 3 | 66.7% |
| 93 | Randy McMichael, SD | 2 | 3 | 66.7% |
| 93 | Ben Obomanu, SEA | 1 | 3 | 33.3% |
| 93 | Chad Ochocinco , NE | 1 | 3 | 33.3% |
| 93 | Greg Camarillo , MIN | 1 | 3 | 33.3% |
| 93 | Johnny Knox , CHI | 1 | 3 | 33.3% |
| 93 | Plaxico Burress, NYJ | 1 | 3 | 33.3% |
| 93 | Alex Smith, CLE | 1 | 3 | 33.3% |
| 93 | Kellen Davis, CHI | 1 | 3 | 33.3% |
| 93 | Preston Parker , TB | 0 | 3 | 0.0% |
| 118 | Deon Butler, SEA | 2 | 2 | 100.0% |
| 118 | DeSean Jackson , PHI | 2 | 2 | 100.0% |
| 118 | Legedu Naanee , CAR | 2 | 2 | 100.0% |
| 118 | Antonio Gates, SD | 2 | 2 | 100.0% |
| 118 | Clay Harbor, PHI | 2 | 2 | 100.0% |
| 118 | Greg Olsen, CAR | 2 | 2 | 100.0% |
| 118 | Kyle Rudolph, MIN | 2 | 2 | 100.0% |
| 118 | Leonard Pope, KC | 2 | 2 | 100.0% |
| 118 | Anthony Becht, KC | 2 | 2 | 100.0% |
| 118 | Andrew Hawkins, CIN | 1 | 2 | 50.0% |
| 118 | Brett Swain , SF | 1 | 2 | 50.0% |
| 118 | Devery Henderson , NO | 1 | 2 | 50.0% |
| 118 | Doug Baldwin, SEA | 1 | 2 | 50.0% |
| 118 | Eric Decker , DEN | 1 | 2 | 50.0% |
| 118 | Jacoby Jones, HOU | 1 | 2 | 50.0% |
| 118 | Louis Murphy , OAK | 1 | 2 | 50.0% |
| 118 | Matt Willis , DEN | 1 | 2 | 50.0% |
| 118 | Micheal Spurlock , TB | 1 | 2 | 50.0% |
| 118 | Tiquan Underwood , NE | 1 | 2 | 50.0% |
| 118 | Emmanuel Arceneaux, MIN | 1 | 2 | 50.0% |
| 118 | Cameron Morrah, SEA | 1 | 2 | 50.0% |
| 118 | Colin Cloherty, SF | 1 | 2 | 50.0% |
| 118 | Jacob Tamme, IND | 1 | 2 | 50.0% |
| 118 | Jake Ballard, NYG | 1 | 2 | 50.0% |
| 118 | Tony Gonzalez, ATL | 1 | 2 | 50.0% |
| 118 | Austin Collie , IND | 0 | 2 | 0.0% |
| 118 | Eddie Royal , DEN | 0 | 2 | 0.0% |
| 118 | Jason Avant , PHI | 0 | 2 | 0.0% |
| 146 | Chansi Stuckey, ARI | 1 | 1 | 100.0% |
| 146 | Earl Bennett , CHI | 1 | 1 | 100.0% |
| 146 | Harry Douglas , ATL | 1 | 1 | 100.0% |
| 146 | Josh Cribbs , CLE | 1 | 1 | 100.0% |
| 146 | Julian Edelman , NE | 1 | 1 | 100.0% |
| 146 | Kevin Ogletree , DAL | 1 | 1 | 100.0% |
| 146 | Ramses Barden , NYG | 1 | 1 | 100.0% |
| 146 | Riley Cooper , PHI | 1 | 1 | 100.0% |
| 146 | Stefan Logan , DET | 1 | 1 | 100.0% |
| 146 | Ted Ginn , SF | 1 | 1 | 100.0% |
| 146 | Vincent Brown, SD | 1 | 1 | 100.0% |
| 146 | Ryan Whalen, CIN | 1 | 1 | 100.0% |
| 146 | Brody Eldridge, IND | 1 | 1 | 100.0% |
| 146 | Colin Cochart, CIN | 1 | 1 | 100.0% |
| 146 | Craig Stevens, TEN | 1 | 1 | 100.0% |
| 146 | Jeff King, ARI | 1 | 1 | 100.0% |
| 146 | John Gilmore, TB | 1 | 1 | 100.0% |
| 146 | Logan Paulsen, WAS | 1 | 1 | 100.0% |
| 146 | Luke Stocker, TB | 1 | 1 | 100.0% |
| 146 | Tony Scheffler, DET | 1 | 1 | 100.0% |
| 146 | Zack Pianalto, TB | 1 | 1 | 100.0% |
| 146 | Anthony Armstrong , WAS | 0 | 1 | 0.0% |
| 146 | Anthony Gonzalez , IND | 0 | 1 | 0.0% |
| 146 | Davone Bess , MIA | 0 | 1 | 0.0% |
| 146 | Patrick Turner , NYJ | 0 | 1 | 0.0% |
| 146 | Anthony McCoy, SEA | 0 | 1 | 0.0% |
| 146 | Delanie Walker, SF | 0 | 1 | 0.0% |
| 146 | Jim Kleinsasser, MIN | 0 | 1 | 0.0% |
| 146 | Josh Baker, NYJ | 0 | 1 | 0.0% |
| 146 | Tom Crabtree, GB | 0 | 1 | 0.0% |
| 146 | Visanthe Shiancoe, MIN | 0 | 1 | 0.0% |
Log in or register to post comments