Forbes & Rummy Take an Early Look at the Fantasy Relevant Rookies
Submitted by

ryan

on Sun, 04/29/2012 - 11:17pm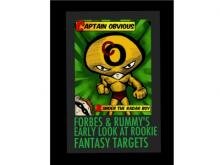 The 2012 NFL Draft is now in our collective rear view mirrors, but we the Mugs take a first glance at who we think landed in ideal fantasy football situations, as well as some rookies who may be flying under the radar.
Captain Obvious
These are the stud rookies who are in good situations and should have solid rookie production...
Robert Griffin III, QB, Redskins: An established run game and the addition of Pierre Garçon and Josh Morgan via free agency, along with Santana Moss, Gaffney, Hankerson, and TE Fred Davis, gives RG3 some weapons out of the box. His mobility (a la Cam Newton), makes him a dual threat in fantasy circles. He should post strong numbers in year one.
Trent Richardson,RB, Browns:  The best running back prospect in five years could face eight in the box on every snap and it won't matter.  He'll have a successful rookie campaign. The addition of Brandon Weeden and right tackle Mitchell Schwartz will make life that much easier for the stud running back in the gnarly AFC North.
Michael Floyd, WR, Cardinals: From a fantasy perspective, Floyd landed in a much better situation than Justin Blackmon in Jacksonville. Paired with stud wide receiver Larry Fitzgerald, he'll likely draw single coverage...unlike Blackmon who could see more attention in a less desirable fantasy situation with Blaine Gabbert under center.
Doug Martin, RB, Buccaneers: New Head Coach Greg Schiano coached stud running back Ray Rice at Rutgers, and Martin is very similar in his skill set, only arguably a better blocker than Rice. That spells bad news for caustic downhill runner LeGarrette Blount, and may eventually lead to a change of pace role. Either way, the buttery soft defenses of the NFC South are a perfect foil for Martin's explosive running style.
David Wilson, RB, Giants: Admittedly I'm not a huge fan of Wilson, who runs too upright for my liking. That style can lead to an injury riddled rookie year, but there's no denying the favorable situation. Ahmad Bradshaw is still fighting nagging injuries, and with plodding goal line back Brandon Jacobs signing a one year deal with the Niners, Wilson is in position to take the starting job and literally run away with it. 
Kendall Wright, WR, Titans: Like Floyd, Wright will benefit from a lot of attention that will be paid to Kenny Britt as the number one wide receiver in Tennessee. Whether it's Jake Locker or Matt Hasselbeck, Wright could emerge as a reliable #2 WR with borderline #1 upside.
Alshon Jeffery, WR, Bears: Jeffery slipped to the second round after questions of his commitment and weight surfaced (yeah, he's #1 in the photo below). Nevertheless, the Bears traded up to grab the talented wideout from South Carolina.  Jeffery will slide into the #2 wide receiver role across from Marshall and could easily emerge as Cutler's redzone binky.
Coby Fleener, TE, Colts: Fleener is reunited in Indy with Stanford QB Andrew Luck, and is a pure pass catching tight end in the mold of Greg Olsen. While I'm hesitant to green light the steep hill that Luck has to climb, his favorite college target may have TE2 upside.
Under The Radar Boy
Rookies that you don't jump off the page as instant fantasy contributors, but could surprise in year one...
Chris Givens, RB, Rams: Brian Quick was drafted ahead of Givens, but Givens is the more explosive of the two with exceptional second level speed. Sam Bradford is poised to finally live up to is lofty expectations, and Givens could post numbers similar to Mike Williams in his rookie season with Tampa Bay.
T.J. Graham, WR, Bills: The surprise 3rd round pick of the Bills should come as no surprise to fans of Chan Gailey's big offense. Graham could easily claim the number two job alongside Stevie Johnson, and given that they'll likely have to keep up with the Jones' in Foxboro as far as scoring points is concerned, that bodes well for the speedster from N.C. State.
Chris Rainey, RB, Steelers: The Steelers killed the draft overall, and waited until the 5th round to take the speedster from Florida.  Rainey is a very versatile option for the Steelers that should see some time in the backfield and potentially in the slot.  New Offensive Coordinator  Todd Haley is the only cause for concern as you figure Rainey will struggle to see consistent snaps with Isaac Redman and Jonathan Dwyer also in the mix.  Nevertheless, he could easily slide into the 3rd down role that was relinquished by current free agent Mewelde Moore.
Robert Turbin, RB, Seahawks: Turbin finished up his senior season at Utah St. with 1517 rushing yards and 19 TDs.  Turbin isn't a back that necessarily excels in any category, but he runs well between the tackles, can catch out of the backfield, and is no sieve when it comes to pass protection.  The Seahawks gave Marshawn Lynch a nice contract in the offseason, so Turbin has a long road ahead of him to get significant playing time.  Still, he has the makeup of the quickly disappearing 3-down back.
Mohamed Sanu, WR, Bengals: Sanu will battle draft community favorite Marvin Jones (whom the Bengals took in the 5th round) for the #2 spot across from A.J. Green, but you immediately give him the upper hand after the Bengals took him in round 3.  A natural route-runner with great hands, Sanu is in a very favorable situation for year 1 fantasy production.  Sanu caught a ridiculous 115 passes in his final year at Rutgers.
Reuben Randle, WR, Giants: Gone is Mario Manningham, who let down many a fantasy player in 2011.  Randle enters as the favorite to succeed Manningham and is as good a bet as anyone on this list to carry some legitimate fantasy potential.  This physical WR out of LSU has been compared by many to his new teammate, Hakeem Nicks.
A.J. Jenkins, WR, 49ers: Aside from the Seahawks taking Bruce Irvin, this was one of the bigger shocks of the 1st round.  Jenkins is in a crowded wide receiver situation in San Francisco with Crabtree, Randy Moss, and Mario Manningham all likely to be ahead of him on the depth chart.  Combine that with the fact that San Francisco relies heavily on their run game and stout defense, Jenkins is certainly someone to monitor, but figures to be a few years out from being fantasy relevant. 
B.J. Cunningham, WR, Miami: This is the only 6th round pick you'll see on this list, but Cunningham's situation is worth noting.  Miami's current receiving corps is underwhelming: Davone Bess, Brian Hartline, Clyde Gates, and Legedu Naanee are the only notable names.  Cunningham possesses below average speed for a wide receiver, but caught 79 balls for 1306 yards and 12 touchdowns in his final year at Michigan State (roughly 40% of Michigan's State's passing offense).  He'll definitely have a shot at the #2 WR job.
Bernard Pierce, RB, Ravens: Let's not try to get cute, Ray Rice is still the man in the Ravens backfield.  However, Bernard Pierce doesn't have much in his way to rocket up to the #2 role behind Rice.  He's the obvious handcuff for Rice owners, and the big, physical back could wind up being a touchdown vulture in Cam Cameron's offense.
Follow and on Twitter.
Log in or register to post comments