A Look at the 2012 NFL Draft Prospects with "Issues?"
Submitted by

John

on Mon, 04/16/2012 - 9:29am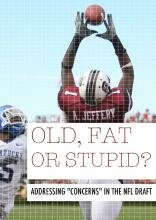 It happens every year in the weeks leading up to the NFL Draft, players with red flags and off the field concerns go anywhere from top fifteen picks to undraftable. The following are top tier talents and where I think they'll fall on Draft Day...
1. Michael Floyd/WR - The Notre Dame product is widely considered a more complete WR than the top prospects in the draft, but multiple alcohol related incidents have him off some teams' boards. There is no doubting his ability, and at 6'-3" 220+ lbs,he's an ideal prototype #1 WR.
My take: Floyd is an interesting subject. Will teams forgive the missteps of youth? I think they will, especially alcohol related missteps from college kids. I think there's little chance he makes it out of the top 15.
2. Janoris Jenkins/CB - Arguably the 2nd best corner in the draft behind Claiborne, his off the field issues are lengthy. Multiple marijuana related incidents and fathering four kids from 3 different mothers begs the question of his decision making while at Florida. When Jenkins was dismissed in 2010 by then HC Bill Muschamp, he transferred to Northern Alabama and reportedly tried to turn his life around. He's been an open book in team interviews, and there is no denying is talent.
My take: Jenkins' pure talent alone makes the risk involved a tempting piece of forbidden fruit. He could go as early as the end of round one, but a high second round selection is more likely. Think 33-36.
3. Orson Charles/TE - In a wafer thin tight end class this year, the talented h-back type was seen as the clear #2 TE with a bullet...until he was arrested for a DUI in March. Then came the firing of his agent shortly thereafter. Red flags this close to the draft usually take a player, even in a thin class, off most boards.
My take: Again, alcohol related arrests can be forgiven, as long as teams see this as a one time mistake. Charles should come off the board somewhere in the middle of the second round.
4. Vontaze Burfict/ LB - The "Burfict Storm" has been tumbling down draft boards since the draft process began, with his penchant for foolish in-game penalties, and talk of his undisciplined and spotty play...on and off the field. Factor in his offensive lineman like Combine and Pro-day numbers, and many question his commitment to football as a whole.
My take: It only takes one team, however, it would be a major surprise to see Burfict fall to any team before the 5th round...he may even go undrafted.
5. Brandon Weeden/QB - Weeden is a clean prospect off the field and looks like a solid QB prospect...but he's 7 years older than most prospects out of college. When Weeden's rookie contract expires, he'll be pushing 34.
My take: Quarterbacks move the needle every year, it's a fact that can't be argued. With Weeden likely the fourth QB off the board this year, a push into the end of round 1 (someone will trade up) won't come as a shock in a QB driven league.
6. Jared Crick/DE - The Nebraska product was once thought of as a top ten prospect heading into his senior campaign until he tore a pec muscle and lost the remainder of his season. For that reason, and that reason only, he's barely being talked about in draft circles.
My take: Crick will likely go in round 2, but I get the feeling that he could end up in a place like New England at the end of round 1. Why? Because Bill Belichick loves taking value players coming off injuries (See Gronkowski, Rob). Getting a top ten grade at 31 would be "Belichickian" to say the least.
7. Alshon Jeffery/WR - Had the pleasure of discussing the mutual binky of two websites on the Podcast last night, and we were all in agreement, Jeffery can flat out play. Also, he can FAT out play...or his conditioning has come into question. If you Google search for pictures of Jeffery, one has to wonder when the baby is coming. That aside, there is no questioning his ability to fight for the football and make plays.
My take: A very deep WR class may keep Jeffery out of round 1, but his talent is evident, so the top half of round 2 is where he should be selected. If he falls in line with an NFLconditioning program that lights a fire in his belly, he's an All-Pro WR.
Log in or register to post comments