The Monday Hangover (Rummy's NFL News & Notes)
Submitted by

John

on Sun, 05/06/2012 - 9:51am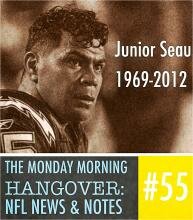 Like many, I was blown away by the news of Junior Seau taking his own life last week. A life ended too soon and without warning to those who knew and loved him...but then I thought deeper. Seau's car "accident" two years ago in California may have been a cry for help, for an otherwise prideful man. Hindsight does tend to be 20/20, but the fact that Seau spared his brain (much like the late Bear's safety, Dave Duerson), lends one to believe he was a man dealing with the effects of a lifetime of blows to the head on the football field, and hoped they would find answers via an autopsy and brain study. Players like the late Dave Duerson and Mike Webster suffered from dimentia like symptoms that experts attribute to chronic traumatic encephalopathy (CET), that occurs from successive head trauma or concussions. Both Duerson and Webster were relatively young men when they died, and the spotlight on (CET) widens when the NFL loses one of their brightest ambassadors in Seau. While the NFL is doing it's best to improve the overall safety of the game, the powers that be need to do more and use more of it's own money to study the effects of repeated concussions on current and retired players. While they've made advances in head gear, it's not enough. Long standing contracts with helmet companies need to be a thing of the past, with the onus on said companies to continue to improve the safety of the equipment each year.
Currently the NFL has renewed it's current longstanding contract with Riddell, and less than a year ago, players utilized the Riddell VSR4. A decade long study by Virginia Tech researchers graded the widely used VSR4 as one of the least safe of the 15 helmets tested. The NFL has since pulled the VSR4 from use. The best rated helmet in the study is the Riddell 360, but sadly, only 39% of all NFL use the helmet currently. That needs to change. If Roger Goodell, the NFLPA and owners are serious about concussions and the subsequent effect on players, they need to make the safest current helmet model the mandatory option. Whether it's Riddell, Schutt, or a burgeoning sports science equipment company, the league needs to be at the forefront of safety...and not their financial bottom line.
On the topic of injuries, the Achilles injury for Terrell Suggs is an unfortunate blow to the hopes of Ed Reed and Ray Lewis attaining another Super Bowl ring. Suggs is hopeful that he'll be able to return late in the season, but with the Steelers and improving Bengals battling it out in the AFC North for the division, the Ravens may be on the outside looking in come playoff time. Suggs' impact can't be overstated. He racked up 70 tackles, 14 sacks, 7 FFs, and 6 pass deflections in 2011. His ability to set the edge is widely under appreciated due to his ability to rush the passer. Players like Sergio Kindle, Paul Kruger and rookie Courtney Upshaw will need to rotate to fill a huge void left by Suggs' injury. The focus will also shift to Joe Flacco, who's in a make it or break it year that could determine if the Ravens see him as their long term answer at QB. While Flacco arguably outplayed Tom Brady in the AFC Championship Game last year, he hasn't had the weight placed upon his back that Brady does, carrying his team with video game like scoring drives week to week. If the aging Ravens defense sans Terrell Suggs can't keep teams under 17 points (16.6 per in 2011), the Ravens playbook will have to continue to open up like it did late last season.
I get a slew of questions about the Patriots backfield situation every season, and now that Joseph Addai is set to sign in New England, Ridley and Vereen dynasty owners are emitting a collective sigh. I'm here to tell you, you need not worry. Danny Woodhead is locked in as the team's 3rd down back, so the true battle is between Ridley and Vereen. Vereen was held back by injuries last year, and Ridley found his carries diminish quickly when he put the ball on the ground in big spots. Ball security killed Laurence Maroney's reps in New England, and if Ridley doesn't cure that issue, he'll be an afterthought as well. Addai offers a strong blocker and pass catcher out of the backfield, and a veteran presence in an otherwise young backfiled. Addai is also a tremendous injury risk, and may not have much horse power left in his legs. Enter Vereen. He flashed last year, but was nagged by injuries. Belichick drafted Vereen in round 2 (a round earlier than Ridley), so I think the door is open for him to take the lead duties if he improves as a pass blocker and ball security isn't an issue. In redraft? I'm not touching any New England backs until round 15 or 16, and it will likely be Vereen. 
Now that rookies are reporting to off season conditioning programs, and beat writers are gasping at the tight spirals of Ryan Tannehill and the freakish size and speed of Stephen Hill, it's good to keep it all in perspective...it's only practice. Camp battles are ahead, and there will be reports of players pushing veterans for starting jobs. Keep this in mind, it's all good twitter conversation until late July and August, when we begin to see rosters take shape, and surprising cuts are made. In the meantime, stay looped with @2MugsFF on Twitter, and look for some important updates from Forbes and Rummy. Cheers!
Log in or register to post comments