Rummy's 2012 NFL Mock Draft *5.0 (*Next to Last Version)
Submitted by

John

on Sun, 04/08/2012 - 7:53pm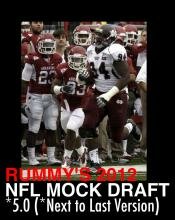 Free Agency has petered out to a slow drip on an old faucet, so the board is beginning to take shape from a need standpoint. There's always a curveball in round one, and you might just see one in this version. Let's roll...
1. Colts – Andrew Luck, QB: Let's not get cute with the RG3 talk. Irsay is bananas, but Luck has been the guy since day one. If Irsay does flip and take RG3, the Skins pre-draft trade would likely complicate things. I don't see that happening.
2. Redskins (via trade with the Rams) - Robert Griffin III, QB: He's Shanahan's guy, and certainly Snyder's guy, as the Skins unloaded a smorgasbord of picks for the dynamic QB out of Baylor.
3. Vikings - Matt Kalil, OT: Spielman might be shopping this pick, but the Vikes need a franchise LT, and whether it's Ponder or a veteran QB, Kalil will keep their pocket clean and open up lanes for Adrian Peterson.
4. Browns - Trent Richardson, RB: It's still a very strong possibility that Holmgren and Heckert will try to trade down and keep building a strong foundation, but a talent like Richardson is rare. If they feel this is too soon for an upside project like Tannehill, then the call is to surround Colt McCoy with a security blanket in a back who can give you 20+ carries a game in year one.
5. Buccaneers - Morris Claiborne, CB: The top 4 rounds out with the best corner in the draft going to new head coach, Greg Schiano. Claiborne is the closest thing to a complete corner in the draft, and the news of his wrist surgery and low Wonderlic score shouldn't hurt his stock at all.
6. Rams ( via trade w/ the Redskins) - Fletcher Cox, DT:  Originally I had Michael Brockers, but the more I see Fletcher Cox on tape, the more I'm convinced he's the most versatile and consistent DT in the draft. He'll be a strong 4/3 DT in Jeff Fishers defense.
7. Jaguars - David DeCastro, OG: The Jags could go a lot of different ways here, but I think with a Mike Mularkey offense that features MJD as its centerpiece, you need bulls up front to lead the way. I considered Riley Reiff here, but with many scouts projecting DeCastro as a RT in the NFL, he'd be the perfect addition with Eben Britton likely making the move to OG on a permanent basis.
8. Dolphins - Ryan Tannehill, QB: With a mighty swing and miss on Peyton Manning, moving up for RGIII, and getting stiff armed by a scrub like Alex Smith, Stephen Ross and Joe Philbin will have to look to the future that doesn't feature Matt Moore. Tannehill's connection to new OC Mike Sherman makes for an easy trust factor as far as adjusting to the offense is concerned, and the Phins get their franchise QB.
9. Panthers - Quinton Coples, DE: Ron Rivera and Marty Hurney could draft another weapon for Cam Newton like Justin Blackmon, or they could potentially find the next Peppers in Coples. Defensive minded coaches usually lean that way.
10. Bills - Justin Blackmon, WR: I considered adding an OT like Reiff, or an OLB here, but with the Bills aggressively adding two defensive players in free agency (Williams and Anderson), they can add a playmaker opposite Stevie Johnson to keep pace with the juggernaut offense of New England.
11. Chiefs - Luke Kuechly, LB: I've compared Kuechly to a taller, rangier London Fletcher on and off the field. Scott Pioli understands what that type of production and character can mean to a team.
12. Seahawks - Melvin Ingram, DE: A man without a position? Fine. Pete Carroll is salivating at the prospect of adding another dynamic piece to his young burgeoning defense. Ingram's versatility allows him to line up on either side of the defensive line as a 4-3 DE.
13. Cardinals - Riley Reiff, RT: Whether he's viewed as a RT or LT, Reiff adds immediate help to a porous OL that did nothing to help the growth of Kevin Kolb. Reiff is also a proven road grader and only serves to boost the run game of Beanie Wells and Ryan Williams.
14. Cowboys - Courtney Upshaw, DE/OLB: Adding Brandon Carr via free agency addressed the Boys' most glaring need, so adding a versatile DL like Upshaw is too tempting to pass up.
15. Eagles - Michael Brockers, DT: With Howie Roseman wisely adding veteran Pro-Bowl ILB DeMeco Ryans from Houston in free agency, the front office now turns its attention to the DL and the high upside of Brockers. Brockers is raw, but could develop into a beast under Jim Washburn.
16. Jets - Cordy Glenn, OG/OT: I had Nick Perry here the last go round, but with Tebow Time coming to the Meadowlands, the Jets will have to improve on Wayne Hunter and Vlad Ducasse. Glenn can play guard or tackle, and is a monster at 6'-5", 345 lbs. He'll move earth, Tebow will part the sea.
17. Bengals - Kendall Wright, WR: I know some Bengals fans are high on grabbing Stephon Gilmore first to help solidify their secondary, but Wright paired with A.J. Green is a game changing move in the AFC North, where the Bengals are now breathing down the necks of the aging Steelers and Ravens.
18. Chargers - Amini Silatolu, OG - The Midwestern State standout has been compared favorably to Larry Allen. Anyone who watched Allen create cavernous holes for Emmitt Smith in the 90's knows that you sometimes take a chance on players with such lofty comps, even though they played on a smaller stage. The retirement of Kris Dielman only solidifies the need for this pick.
19. Bears - Michael Floyd, WR: It would be wise for the Bears front office to protect Cutler first, and add weapons later, but if the addition of Brandon Marshall tells us anything, that's not how they operate. That said, Wright is the perfect field-stretching, deep threat compliment to Marshall's YAC/possession WR style. In the very least, Cutler will be happy he has true big play WRs to throw to in Chicago. They'll add OL help later.
20. Titans - Mark Barron, S: While CB is a more pressing need with the departure of Cortland Finnegan in free agency, a thin safety class makes Barron a hot commodity and fills a need on the back end for the Titans.
21. Bengals - Stephon Gilmore, CB: See?  The Bengals still got their man four picks later, and now in addition to a potentially explosive WR tandem in Green and Wright, they now solidify their corners with Hall and Gilmore.
22. Browns - Mike Adams, OT: I considered a QB like Weeden here but in the end, I just couldn't see Holmgren, with his history of shaping undervalued QBs, using a pick this early on a 30 year old QB. Last time it was OSU's Adams, and it hasn't changed. He's a run blocking RT who will be paired with All-Pro Joe Thomas.  Trent Richardson should be in for a promising rookie campaign.
23. Lions - Dre Kirkpatrick, CB: Last go round, it was help up front for Matt Stafford, while in this version the Lions address their other sieve—their secondary. Kirkpatrick is a solid value at this point and fills a glaring need in an otherwise talented defense.
24. Steelers - Dont'a Hightower, LB: The Steelers don't ever get cute in the draft. They add depth and value, and considering they're getting a little long in the tooth, especially at ILB, the aggressive Hightower is a natural fit in Dick Lebeau's system.
25. Broncos - Dontari Poe, DT: My last mock had Denver taking a chance on project/upside WR Stephen Hill to add a new toy for Peyton Manning. However, with Dontari Poe (another project) tumbling down draft boards, defensive minded HC John Fox is willing to take a chance to bolster his improving young defense.
26. Texans - Nick Perry, DE/OLB: I had ideal #2 WR Mohamed Sanu here in my last mock, but with so much WR depth in this class, it was more imperative that the Texans address the loss of Mario Williams, and grab classic tweener Perry, who can put his hand in the dirt as a DE and drop back as a 3-4 OLB. While not as polished as an OLB, Wade Philips can utilize this young stud, in the same way he did DeMarcus Ware in Dallas.
27. Patriots - Andre Branch, DE/OLB: In my last mock, I had the Pats make the surprising move up in the draft to attain Ingram, but this time around they stand pat. Taking the versatile "elephant" type in Branch offers rush ability and coverage on 3rd downs as well. This is something that has eluded the Patriots since big Willie Mac took his Jheri Curls to NFL Network.
28. Packers - Whitney Mercilus, DE/OLB: The "People's Champs" are always in the market to add the best player available, and this time around it's an OLB opposite Clay Mathews. Mercilus projects as a 4-3 DE and more appropriately a 3-4 OLB. He'll fit in nicely in Dom Capers scheme.
29. Ravens - Peter Konz, C: Matt Birk is getting old and slow. Just ask Vince Wilfork. The former All-Pro center is about to call it a career, so Konz is a smart and reasonable pick...It has Ozzie Newsome stamped all over it.
30. Niners - Coby Fleener, TE: I was hesitant to place any TE in this year's class in the first round, but the connection of the once former recruit of Jim Harbaugh may be too strong to pass up. Paired with a stud in Vernon Davis, the Niners follow suit in this copycat league of two TE sets.
31. Patriots - Jared Crick, DT: I considered moving out again, but in the end Belichick loves players who grade out as high picks but tumble due to injury (see, Gronkowski, Rob). Crick was once graded as a top ten pass rusher, but an injury riddled 2011 hurt his stock. With Mark Anderson leaving via free agency, and veteran Andre Carter recovering from ankle surgery, this leaves a big need at DE. Crick could evolve into an All-Pro in Belichick's system.
32. Giants - Chandler Jones, DE: Admittedly I'm not a fan of Jones, but as a pure pass rushing DE he has definitive talent. In a 4-3 scheme, he'll excel like all of the DL that Jerry Reese and Tom Coughlin have collected over the last several years.
Log in or register to post comments